PMW unmasks Abbas' lame "condemnation"
After the PA's repeated calls for terror and the PA's repeated support for terror, Arabs murder 11 people in 3 terror attacks in one week:
Sequence of events:
February: The PA, including Abbas, repeatedly calls for terror
March 1- 21: PA glorifies terrorists who died in terror attacks
March 22: Terrorist murders 4 in Be'er Sheva, PA openly praises him as "Martyr"
March 27: Terrorist murders 2 in Hadera, PA is silent
March 29: Terrorist murders 5 in Bnei Brak, Abbas forced to issue lame condemnation
After 2 months of intensified PA promoting terror and support for terror attacks, 3 terror attacks by Arabs in one week leave 11 people in Israel murdered. PA Chairman Abbas was the leader of the calls to Palestinians to murder Israelis. For example, at the PLO Central Council meeting in February: "President [Abbas called] in all his speeches to initiate popular resistance." [Official PA TV, Feb. 8, 2022] PMW has documented that "popular resistance" is the PA call for civilians to carry out terror attacks.
Having promoted terror for 2 months, the PA glorified the first terror attack in which 4 Israelis were murdered. After criticism from Israel, the PA was silent about the second attack in which 2 were murdered. And then only when Israel's defense minister and the United States pressured Abbas he issued a lame condemnation.
PA responses to Arab terror murdering 11 in one week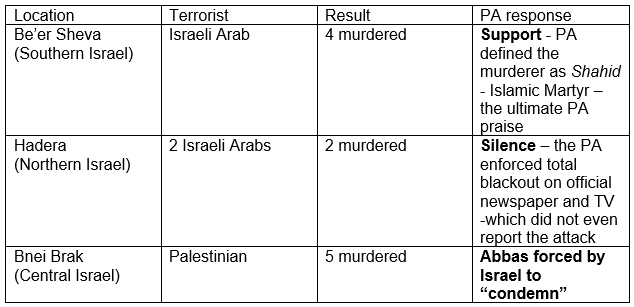 Abbas knows how to condemn when he wants to condemn terror
After Iranian backed terrorists attacked an oil facility in Saudi Arabia last week causing major destruction, Abbas issued a very strong and sincere condemnation. After yesterday's terror attack, Israeli Defense Minister Benny Gantz, who recently offered Abbas major concessions to Palestinians for the upcoming month of Ramadan, pressured Abbas to issue a condemnation. Israeli Arab Affairs expert, Yoni Ben Menachem reported: "Only after massive pressure from Defense Minister Benny Gantz, PA Chairman Mahmoud Abbas issued the condemnation of the Bnei Brak attack." [Twitter, March 30, 2022]
Abbas then issued a clearly insincere condemnation.
Compare Abbas' sincere language of condemnation to the Saudis and his sham words when the terrorists are Palestinians:
Sincere Abbas condemnation
of the terror attack in Saudi Arabia
Insincere Abbas condemnation
of the terror attack in Israel

"[PA] President Mahmoud Abbas said in a telegram he sent to Saudi King Salman bin Abdulaziz Al-Saud: 'We strongly condemn the despicable terror act and all kinds of acts of aggression and crime that harm the security and stability of Saudi Arabia and contradict the international and humanitarian laws and regulations and morality (refers to missile attack by Iranian-backed Houthi forces in Yemen targeting an oil facility in Jeddah, Saudi Arabia, on March 25, 2022 -Ed.).'
The president emphasized his stand and solidarity with sister Saudi Arabia on all that is likely to prevent these terror attacks, and he wished that Almighty Allah will protect them and guide them for the good, security, and prosperity of Saudi Arabia and its brotherly people.
The president also sent a telegram to [Saudi] Crown Prince, Deputy Prime Minister, Minister of Defense, and Council of Economic and Development Affairs Chairman Prince Mohammed bin Salman bin Abdulaziz Al-Saud, and strongly condemned the cowardly rocket attack and all kinds of criminal acts that seek to undermine Saudi Arabia's security and stability. The president said: 'We express our full solidarity with Saudi Arabia and its leadership against all kinds of acts of aggression, crime, and terror, and those who are behind them, and we wish that Almighty Allah will protect Saudi Arabia and its people with full goodness, security, and wellbeing.'"

[Official PA daily Al-Hayat Al-Jadida, March 26, 2022]

"President Mahmoud Abbas expressed tonight his condemnation of the killing of Israeli civilians earlier this evening, and stressed that the killing of Palestinian and Israeli civilians will only lead to further deterioration of the situation, especially as we are approaching the holy month of Ramadan and the Christian and Jewish holidays.
President Abbas warned against attempts by Israeli settlers and other sides to exploit this condemned incident to carry out attacks and reactions against our Palestinian people.
He pointed out that the cycle of violence confirms that permanent, comprehensive and just peace is the shortest way to provide security and stability for the Palestinian and Israeli peoples and the peoples of the entire region."

[WAFA, official PA news agency, English edition, March 29, 2022;
WAFA, official PA news agency, March 29, 2022, Official PA daily Al-Hayyat Al-Jadida, March 30, 2022]
Timeline of Arab terror
Stage 1: PA calls for terror
Already on March 3, PMW warned that the PA was calling repeatedly for terror attacks during the month of February. PMW published a report with the headline: "PA calls for terror - "popular resistance" "like the first Intifada." Aside from Abbas' call to murder cited above, at the funeral of three Fatah terrorists, Abbas called to murder 6 Israelis:
"We won't continue to wait patiently any longer. We must dish out to them twice as much as we've received, because we are the ones attacked."

[Sawa, independent Palestinian news agency, Feb. 10, 2022]
Stage 2: Three weeks of terror attacks in March - all supported by the PA
Palestinians responded to the PA calls, and in the first 3 weeks of March, Palestinians committed numerous terror attacks, mostly stabbing attempts that did not result in any murdered Israelis. Abbas' PA gave ultimate support for the terror by announcing that every one of the killed terrorists were Islamic Martyrs - Shahids receiving the greatest rewards from Allah.
Stage 3: Three murderous terror attacks
March 22 – 4 Israelis murdered
On March 22, an Israeli Arab terrorist murdered 4 Israelis in Be'er Sheva in southern Israel in a stabbing attack and the PA continued its support for terror. Both official PA TV and the official PA daily honored the murderer as an Islamic Martyr. PA TV also published a picture of the terrorist on its website and called him an Islamic Martyr. After pressure from Israel, the PA removed the post. [Kan11, Israeli TV new, March, 22, 2022]
March 27 - 2 Israelis murdered in Hadera
When 2 Israeli Arabs murdered 2 Israelis in Hadera, Abbas had a dilemma how to report a terror attack. On the one hand, the PA has been the driving force creating the atmosphere demanding terror for months. In addition, all terrorists who are killed in terror attacks, including suicide bombers and mass murderers of children, are always defined by the PA as Martyrs. However, Israel was already angry at him for calling the previous terrorist a Martyr. Accordingly, official PA TV and the official daily newspaper Al-Hayat Al-Jadida, as well as WAFA the official PA news agency, completely ignored the attack as if it never happened. So after praising the first murderous attack and being criticized by Israel, they chose to have a total blackout about the second murderous terror attack.
March 29 - 5 people murdered – 3 Israelis and 2 Ukrainian foreign workers - in Bnei Brak
After 5 people were murdered yesterday, Israeli Defense Minister Benny Gantz and the US put pressure on Abbas and Abbas issued the above lame condemnation. [Ynet News, March 30, 2022]
Significantly, beyond Abbas' condemnation, there has been total silence about the attack and the death of the terrorist in the official PA press, with no reference in the official daily or on official TV news. In fact, PA TV's "Palestine Today" had a long discussion this morning about the daily news and there was no reference at all to yesterday's terror attack - as if it never happened. Possibly the PA refuses to report on the terror attack because it cannot use the word "terrorist" about the murderer and cannot call him a "Martyr" because of Israeli pressure and possible international repercussions, so it continues its news blackout.
Given this background and the PA's encouragement of the current terror wave, it is unclear why the Israeli political establishment of the United States would ask for Abbas' condemnation or attach any importance to it.