Fatah honours mass-murderer terrorist Dalal Mughrabi as "the first female Palestinian self-sacrificing fighter"
Images and text posted on the Facebook page of the Fatah Movement – Nablus Branch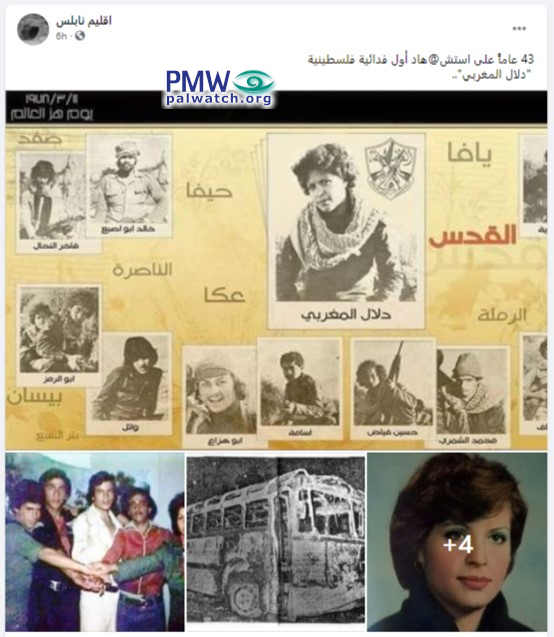 Posted text: "43 years since the death as a Martyr of the first female Palestinian self-sacrificing fighter Dalal Mughrabi"
The main image shows pictures of terrorist Dalal Mughrabi and the other members of her terror group who murdered 37 civilians, 12 of them children. In the upper right corner of Mughrabi's picture is the Fatah logo that includes a grenade, crossed rifles, and the PA map of "Palestine" that presents all of Israel together with the PA areas as "Palestine." In the background of the image are the names of the following Israeli cities: Jaffa, Ramle, Haifa, Acre, Nazareth, Safed, Beit Shean, and Be'er Sheva.
The other images include a picture of the wreckage of the civilian bus that Mughrabi and her terror group attacked, and an image of Mughrabi.
Dalal Mughrabi – female Palestinian terrorist who led the most lethal terror attack in Israel's history, known as the Coastal Road massacre, in 1978, when she and other Fatah terrorists hijacked a bus on Israel's Coastal Highway, murdering 37 civilians, 12 of them children, and wounding over 70.