"Confront any provoker with great joy" - Fatah posts video featuring terrorists armed with assault rifles and grenades, while claiming that all of Israel is actually "Palestine"
Video and text posted on the Facebook page of the Fatah Movement – Hebron Branch
Posted text: "Long live Fatah, the magnificent women of Fatah, and the Fatah members. Fatah is the guardian of the national project"
Visual: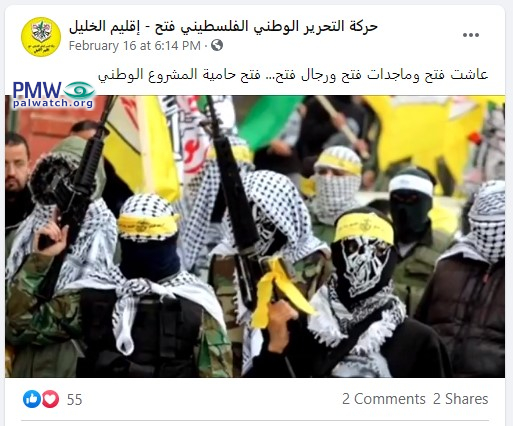 The screenshot shows masked and uniformed members of the Al-Aqsa Martyrs' Brigades, Fatah's military wing, carrying assault rifles and wearing yellow Fatah headbands and keffiyehs (Arab headdresses) during a Fatah rally.
The screenshot shows a masked and uniformed man with grenades strapped to his uniform. Behind the man is a yellow Fatah flag featuring the Fatah logo that includes a grenade, crossed rifles, and the PA map of "Palestine" that presents all of Israel together with the PA areas as "Palestine."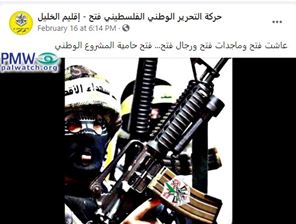 The screenshot shows masked men holding assault rifles. On the ammunition magazine of the rifle in front is the Fatah logo.
Narrator: "Palestine is one land – the West Bank, the Gaza Strip, and the 1948 [lands] (i.e., Israel)"
Lyrics: "I confront any provoker who approaches Jerusalem to attack"
Narrator: "Whenever Palestine called for its children, Fatah's cavalry responded with great joy. If the Al-Aqsa Mosque wall was shaking it's because it was responding to the wall of the Cave of the Patriarchs. Palestine is one land – the West Bank, the Gaza Strip, and the 1948 [lands] (i.e., Israel).Fatah exists forever within us. Fatah is an eternal melody as long as we are alive. And the proof of that is that the West Bank has a scar from the pain of the Gaza Strip."
Lyrics: "Palestine is Acre and Gaza, from your [Mediterranean] Sea to the Negev and the [Jordan] Valley"