PLO and Fatah officials take part in anti-Israel rally in order to promote the Palestinian "right of return"
Headline: "People wounded in the suppression of a Land Day procession in Kafar Qaddum by the occupation"
"Yesterday, Friday [April 1, 2022], the Israeli occupation suppressed the weekly Kafar Qaddum procession against settlement, east of Qalqilya, which set out in a call by the Fatah Movement on the 46th Land Day (see note below -Ed.) and as a sign of condemnation of the occupation's crimes against our people."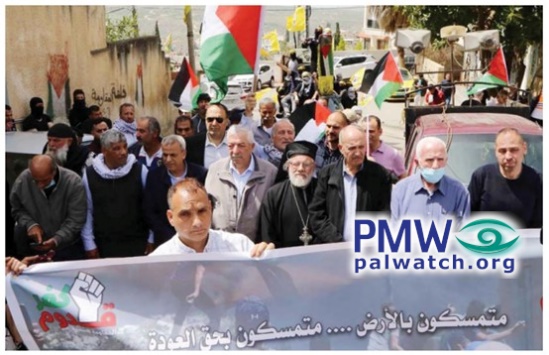 The article includes a picture from the Land Day procession in Kafar Qaddum, in which PLO Executive Committee member Azzam Al-Ahmad is seen second from the right and Fatah Deputy Chairman and Fatah Central Committee member Mahmoud Al-Aloul is seen in the middle to the left of a priest. At the front of the procession is a large sign.
Text on sign: "Kafar Qaddum
Adhering to the land, adhering to the right of return"
In the background on a wall on the left are drawn two PA maps of "Palestine" that present all of Israel together with the PA areas as "Palestine" in the colors of the Palestinian flag.
PLO Executive Committee member Azzam Al-Ahmad who spoke on official PA TV also serves as head of the PLO Department of Arab and Parliamentary Affairs, Fatah Central Committee member, Fatah Commissioner of National Relations, and Fatah Commissioner for Relations with Lebanon.
Land Day – annual commemoration of the general strike and demonstrations organized by Israeli Arab residents of the Galilee on March 30, 1976 to protest the Israeli government's decision to expropriate land in the Galilee for security and building purposes, which it later implemented. During the protests, demonstrators burnt tires, blocked roads, and threw rocks and firebombs. Six demonstrators were shot and killed by the Israeli army and police. Israeli Arabs and Palestinians consider Land Day a national day.