PA Daily encourages Palestinians to "stand firm and defy" Israel
The following is the main headline of the official PA daily
Headline: "For your sake [Jerusalem], the city of prayers, we will stand firm and defy"
"Last night [April 4, 2022], for the third consecutive day, [Arab] residents of Jerusalem continued to defy and come out against the occupation forces, who have been continuing to provoke them since the start of the [Muslim fasting] month of Ramadan on baseless pretexts.
Eyewitnesses said that the occupation forces pursued the young people who were in the area of the Damascus Gate [of Jerusalem's Old City]… They used batons and [stun] grenades, and they wounded and arrested a number of them.
Yesterday dozens of settlers broke into the blessed Al-Aqsa Mosque from the direction of the Mughrabi Gate, while being guarded by the occupation police. They held provocative tours and held Talmudic (i.e., Jewish) rituals in its plazas."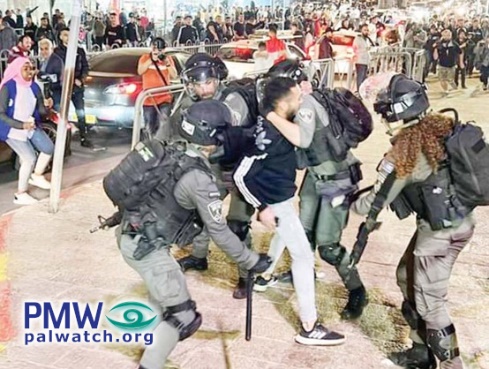 The article includes a picture of Israeli border police officers arresting a Palestinian rioter.
The PA and its leaders misrepresent all of the Temple Mount as an integral part of the Al-Aqsa Mosque. Therefore, they vilify any presence of Jews on the mount as an "break-in." It should be noted that Jews who visit the Temple Mount only enter some sections of the open areas, and do not enter the Al-Aqsa Mosque or the Dome of the Rock. Israeli police ban Jewish prayer at the Temple Mount because of threats of violence by Palestinians.