PA creates garden to honour Palestinian terrorists serving life sentences in prison
Headline: "Freedom to the Life Sentence Prisoners Garden is inaugurated in Jenin"
"Yesterday, Monday [March 21, 2022], Jenin District Governor Akram Rajoub and Head of the Educational Directorate [in Jenin] (i.e., branch of the PA Ministry of Education) Salam Al-Taher, in cooperation with a delegation from the occupied Syrian Golan Heights (i.e., in northern Israel), inaugurated the Freedom to the Life Sentence Prisoners Garden. They planted 16 olive tree seedlings named after the life sentence prisoners from Jenin and its refugee camp.
A rally was held at the Izz A-Din Elementary School for Boys schoolyard and a procession of scouts took place at the school, with the participation of District Governor Rajoub, Al-Taher, a delegation from the occupied Syrian Golan Heights led by released prisoner Sidqi Al-Maqt (i.e., terrorist, committed espionage against Israel), a delegation from the 1948 territories (i.e., Israel), [Izz A-Din Elementary] School Principal Saed Hushiya, Fatah [Jenin] Branch member Osama Bazzour, the national action factions, representatives of the official institutions, security institutions, and non-governmental institutions, released prisoners and their relatives, and also representatives of Fatah, the [PA-funded] Prisoners' Club, and the [PLO] Commission of Prisoners' Affairs.
The speakers emphasized that there is one message in inaugurating the garden: We adhere to the prisoners' cause and stand alongside them."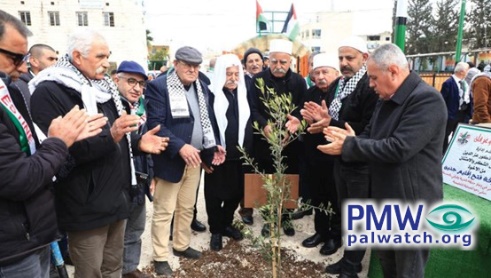 The article includes a picture from the event.
Sidqi Al-Maqt – Spy from the Druze and former Syrian village in the Golan Heights, Majdal Shams, who spied for Syria, providing information about the Israeli army. Al-Maqt was arrested in 1985 and served a 27-year sentence and was released, but was rearrested for espionage in 2015. Al-Maqt was sentenced to another 14 years, but was released on Jan. 10, 2020, as part of a goodwill gesture by Israel following the return of the body of Zachary Baumel, an Israeli soldier missing in action since 1982, by Russia from Syria.