International Women's Day demonstration in Gaza celebrates terrorist murderers including female terrorist Dalal Mughrabi
Official PA TV News
Visual:
Footage is shown from a demonstration in the Gaza Strip for International Women's Day. The demonstration, which focuses on solidarity with Palestinian women and Palestinian female prisoners in particular, was part of a weekly demonstration held in front of the Red Cross offices in Gaza City.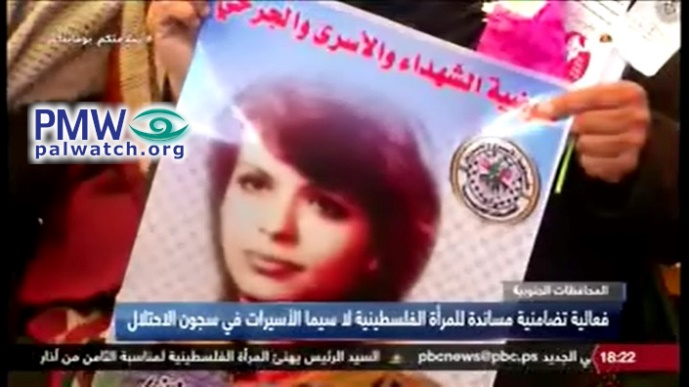 The screenshot shows a poster held at the demonstration featuring terrorist Dalal Mughrabi, who led the murder of 37, 12 of them children. In the upper right corner is the Fatah logo that includes a grenade, crossed rifles, and the PA map of "Palestine" that presents all of Israel together with the PA areas as "Palestine."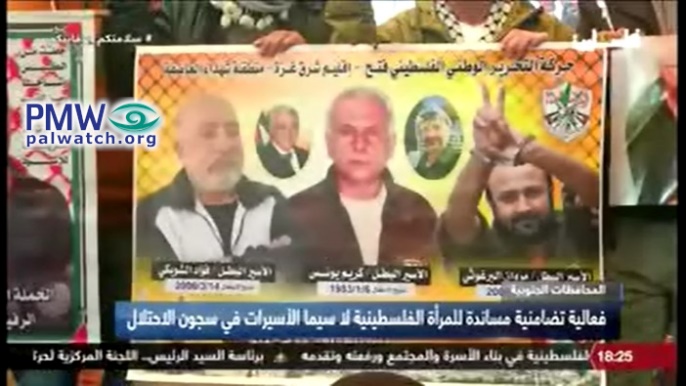 The screenshot shows a poster held at the demonstration featuring from left to right: Fuad Al-Shubaki, a senior PA official and weapons smuggler; PA Chairman Mahmoud Abbas; terrorist Karim Younes, who murdered 1 together with an accomplice; former PLO and PA Chairman Yasser Arafat; terrorist Marwan Barghouti, who orchestrated three attacks in which 5 were murdered; and the Fatah logo. Text below the terrorists Al-Shubaki, Younes, and Barghouti glorifies each as "the heroic prisoner".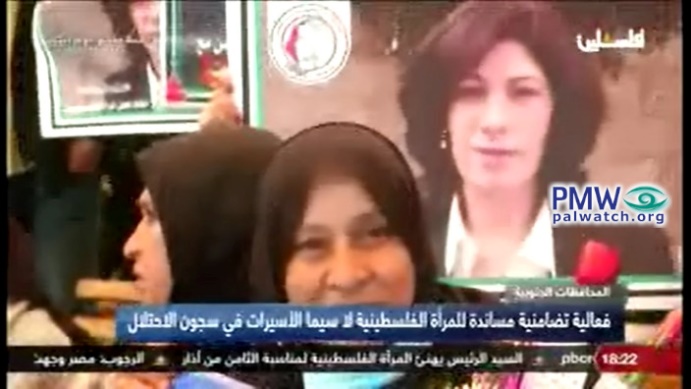 The screenshot shows a poster held at the demonstration featuring PA Parliament Member Khalida Jarrar, who has been arrested multiple times for terror incitement and membership in the Popular Front for the Liberation of Palestine (PFLP) terror organization.
Dalal Mughrabi – female Palestinian terrorist who led the most lethal terror attack in Israel's history, known as the Coastal Road massacre, in 1978, when she and other Fatah terrorists hijacked a bus on Israel's Coastal Highway, murdering 37 civilians, 12 of them children, and wounding over 70.
Karim Younes - Israeli Arab terrorist who kidnapped and murdered Israeli soldier Avraham Bromberg in 1980 together with his cousin Maher Younes. Younes was originally sentenced to life in prison, but Israeli President Shimon Peres reduced his sentence in 2012. Younes is serving a 40-year sentence. In May 2017 Younes was appointed by PA Chairman Mahmoud Abbas to the Fatah Central Committee. Younes was released from prison on Jan. 5, 2023.
Yasser Arafat – Founder of Fatah and former chairman of the PLO and PA. During the 1960s, 70s and 80s Arafat was behind numerous terror attacks against Israelis. Although he received the Nobel Peace Prize in 1994 together with then Israeli Prime Minister Yitzhak Rabin and then Israeli Minister of Foreign Affairs Shimon Peres "for their efforts to create peace in the Middle East" after signing the Oslo Accords peace agreement, Arafat launched a 5-year terror campaign - the second Intifada (2000-2005) – in which more than 1,000 Israelis were murdered. Arafat died of an illness in 2004.
Marwan Barghouti – Palestinian terrorist and member of the Palestinian Authority parliament who is serving 5 life sentences for orchestrating three shooting attacks in which 5 people were murdered: one attack on the Jerusalem-Maale Adumim road (June 12, 2001) in which Greek Orthodox monk Tsibouktsakis Germanus was murdered by terrorists Ismail Radaida and Yasser Ah'Rabai, another attack at a gas station in Givat Zeev near Jerusalem (Jan. 15, 2002) in which Yoela Hen was murdered by terrorists led by Mohammed Matla, and one shooting and stabbing attack at the Seafood Market restaurant in Tel Aviv (March 5, 2002) in which Eli Dahan, Yosef Habi, and Police Officer Sergeant-Major Salim Barakat, were murdered by terrorist Ibrahim Hasouna. When arrested by Israel in 2002, Barghouti headed the Tanzim (Fatah terror faction). After he was convicted and imprisoned, he was re-elected as a member of the Palestinian Authority parliament. On Dec. 4, 2016, he was elected to Fatah's Central Committee.
Khalida Jarrar – Palestinian Authority MP arrested by Israeli authorities on April 12, 2015, for being a member of the terror organization Popular Front for the Liberation of Palestine (PFLP), for inciting to kidnap Israeli soldiers and inciting to terror. On Dec. 6, 2015 she was sentenced to 15 months in prison, fined 10,000 shekels, and given an additional suspended sentence of 10 months for incitement to violence and belonging to the PFLP terror organization. Jarrar was released in June 2016 following an international campaign on her behalf. She was arrested again in July 2017 and is being held in administrative detention that was extended in December 2017, and again in June 2018. The reasons for her administrative detention have not been released. Jarrar was released from detention on Feb. 28, 2019.