"We will die standing upright and we will not bow" - Fatah honours terrorist "Martyr and leader" Abu Ali Iyad for his "strong" terror attacks
Image and text posted on the Facebook page of the Fatah Movement – Nablus Branch
The image shows terrorist Abu Ali Iyad who was responsible for numerous terror attacks. In the upper right corner is the Fatah logo that includes a grenade, crossed rifles, and the PA map of "Palestine" that presents all of Israel together with the PA areas as "Palestine." In the background is the Temple Mount with the Dome of the Rock visible on the left.
Text on image: "Martyr leader
Abu Ali Iyad
We will die standing upright and we will not bow"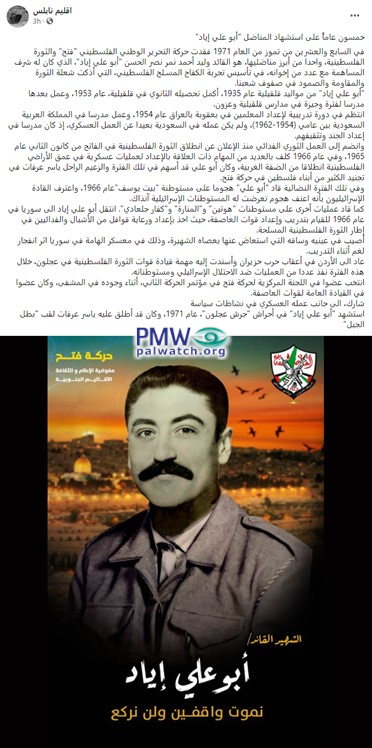 Posted text: "On July 27, 1971, the Fatah Movement and the Palestinian revolution lost one of their prominent fighters: leader Walid Ahmad Nimr Nasr Al-Hassan 'Abu Ali Iyad,' who had the honor of participating together with a number of his brothers in founding the Palestinian armed struggle, which lit the torch of revolution, resistance, and resolve among our people…
In 1966 he was assigned many missions connected to preparing military operations (i.e., terror attacks) in the depth of the Palestinian lands from inside the West Bank…
Abu Ali oversaw an attack against the Beit Yosef settlement in 1966 (refers to attack in northern Israel, 3 wounded -Ed.). The Israeli leaders admitted that this was the strongest attack against the Israeli settlements at the time.
He also oversaw other operations against the settlements of Hutin (sic., there is no Jewish town by this name), Manara, and Kfar Giladi (i.e., Israeli towns)."
Abu Ali Iyad was appointed head of Fatah military operations in 1966 and was responsible for several terror attacks. The attacks included a bombing in the town of Beit Yosef in northern Israel on April 25, 1966 (injuring 3 people), and placing bombs in the town of Margaliot in northern Israel on July 19, 1966. He was killed in 1971 in Jordan by the Jordanian army when it forced Fatah members out of the country.