Fatah senior official visits family of terrorist murderer
Images and text posted on the Facebook page of Fatah Central Committee member Abbas Zaki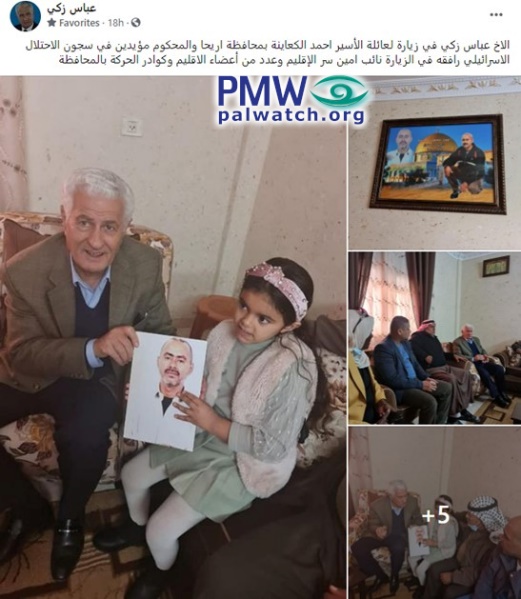 Posted text: "[Fatah Central Committee member] brother Abbas Zaki during a visit in the Jericho district to the family of prisoner Ahmad Kaabneh (i.e., terrorist, murdered 2), who was sentenced to 2 life sentences in the Israeli occupation's prison. He was accompanied during the visit by the [Fatah Jericho] branch deputy secretary and a number of members of the branch and Fatah activists in the district."
The images show Fatah Central Committee member Abbas Zaki during his visit to the family of terrorist Ahmad Kaabneh, including an image of Zaki sitting with a young girl and holding Kaabneh's picture between them.
Abbas Zaki also holds the position as Fatah Commissioner for Arab and China Relations
Ahmad Mahmoud Kaabneh – Palestinian terrorist who stabbed and murdered 2 Israelis – Hagit Zavitsky and Liat Kastiel, both 23 – while they were hiking in Wadi Qelt near Kfar Adumim, east of Jerusalem, on April 24, 1997. Kaabneh confessed to the murders and is serving 2 life sentences.