PA Prime Minister participates in Ramadan fast-breaking meal with "female fighter" Um Nasser Abu Hmeid, mother of 6 terrorists responsible for at least 10 murders
Headline: "Shtayyeh participates with female fighter Um Nasser Abu Hmeid in the fast-breaking meal: The prisoners' cause will remain at the top of the priorities of the leadership and government"
"Yesterday [April 10, 2022, PA] Prime Minister Muhammad Shtayyeh participated in the [Ramadan] fast-breaking meal with female fighter Um Nasser Abu Hmeid (i.e., mother of terrorists responsible for at least 10 murders; see note below) at her home in Ramallah, in the presence of Ramallah and El-Bireh District Governor Laila Ghannam…
The prime minister conveyed the blessings of [PA] President Mahmoud Abbas to Um Nasser. He again emphasized that the prisoners' cause and making every effort to release them all from the occupation's prisons will remain at the top of the priorities of the [PA] leadership and government.
Shtayyeh saluted Um Nasser for her resolve and her awe-inspiring standing as a mother who represents all the mothers of the prisoners, as she is defending our prisoners in the occupation's prison and waving their flag in our consciousness and in our hearts."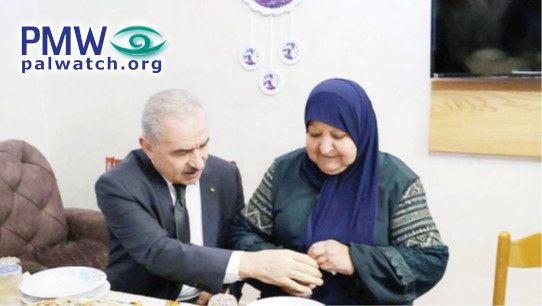 The article includes a picture of PA Prime Minister Muhammad Shtayyeh sitting with Um Nasser Abu Hmeid.
Um Nasser Abu Hmeid (Um Yusuf Abu Hmeid/Latifa Abu Hmeid) – Palestinian woman famous and admired in the PA for being the mother of 5 terrorist prisoners serving life sentences (4 of them serving multiple life sentences), and another whom the PA refers to as a "Martyr." Abu Hmeid is also called Khansa of Palestine, which refers to Al-Khansa from the earliest period of Islam who sent her four sons to battle and rejoiced when they all died as Martyrs. Abu Hmeid was honored by the PA in 2010 and 2015, and was chosen in 2011 to launch the PA's statehood campaign with the UN. Her terrorist sons: Islam Yusuf Abu Hmeid, murdered 1 on May 24, 2018, and is serving life in prison and an additional 8 months; Muhammad Abu Hmeid, serving 2 life sentences and 30 years for involvement in terror attacks; Nasser Abu Hmeid, serving 7 life sentences and 50 years for murdering 7 Israeli civilians and 12 attempted murders; Nasr Abu Hmeid, serving 5 life sentences for involvement in two terror attacks in which 4 were murdered, and arms dealing; Sharif Abu Hmeid, serving 4 life sentences for involvement in terror attacks in which 4 were murdered; Abd Al-Mun'im Muhammad Yusuf Naji Abu Hmeid, murdered 1 on Feb. 13, 1994, and was killed by Israel on May 31, 1994.