PLO senior official visits homes of terrorist murderers
Text and images posted on the official Fatah Facebook page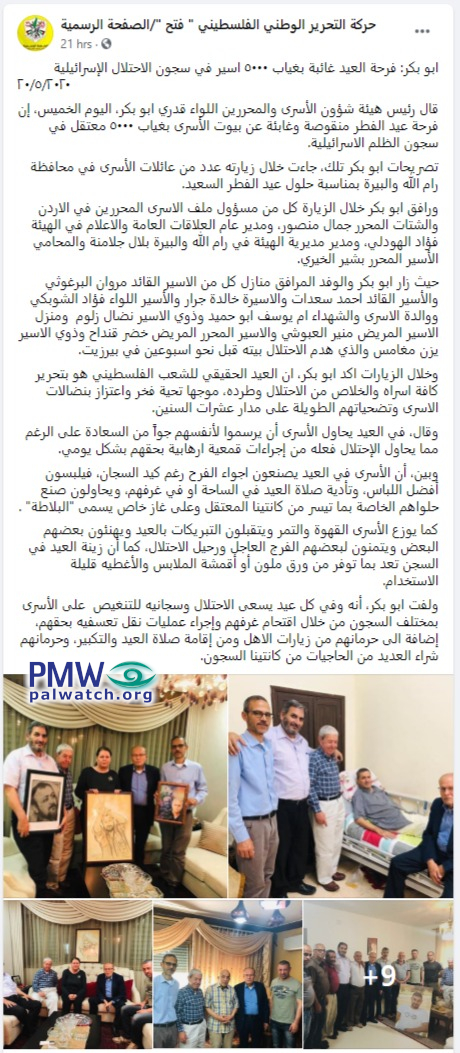 Posted text: "[Director of PLO Commission of Prisoners' Affairs Qadri] Abu Bakr: The joy of the holiday is absent due to the absence of 5,000 prisoners who are in the Israeli occupation's prisons
May 20, 2020
Director of the Commission of Prisoners and Released Prisoners' Affairs Maj. Gen. Qadri Abu Bakr said today, Thursday [May 21, 2020], that the joy of Eid Al-Fitr (i.e., Muslim holiday marking the end of Ramadan) is missing and absent from the homes of the prisoners due to the absence of 5,000 prisoners who are in the Israeli prisons of oppression.
Abu Bakr's statements were made during his visit to a number of families of prisoners in the Ramallah and El-Bireh district for Eid Al-Fitr…
Abu Bakr and the accompanying delegation visited the homes of prisoner leader Marwan Barghouti (i.e., terrorist, orchestrated three attacks in which 5 were murdered), prisoner leader Ahmad Sa'adat (i.e., head of the PFLP terror organization), prisoner Khalida Jarrar (i.e., PA Parliament and PFLP member who incited to terror), prisoner Fuad Al-Shubaki (i.e., senior PA official and weapons smuggler), the mother of the prisoners and Martyrs Um Yusuf Abu Hmeid (i.e., mother of terrorists responsible for at least 10 murders; see note below), the relatives of prisoner Nidal Zalum (i.e., terrorist, murdered 2)… and the relatives of prisoner Yazan Maghamis (i.e., terrorist, involved in murder of 1), whom the occupation destroyed his home in Birzeit approximately two weeks ago."
The images show Director of PLO Commission of Prisoners' Affairs Qadri Abu Bakr visiting the families of terrorist prisoners.
Marwan Barghouti – Palestinian terrorist and member of the Palestinian Authority parliament who is serving 5 life sentences for orchestrating three shooting attacks in which 5 people were murdered: one attack on the Jerusalem-Maale Adumim road (June 12, 2001) in which Greek Orthodox monk Tsibouktsakis Germanus was murdered by terrorists Ismail Radaida and Yasser Ah'Rabai, another attack at a gas station in Givat Zeev near Jerusalem (Jan. 15, 2002) in which Yoela Hen was murdered by terrorists led by Mohammed Matla, and one shooting and stabbing attack at the Seafood Market restaurant in Tel Aviv (March 5, 2002) in which Eli Dahan, Yosef Habi, and Police Officer Sergeant-Major Salim Barakat, were murdered by terrorist Ibrahim Hasouna. When arrested by Israel in 2002, Barghouti headed the Tanzim (Fatah terror faction). After he was convicted and imprisoned, he was re-elected as a member of the Palestinian Authority parliament. On Dec. 4, 2016, he was elected to Fatah's Central Committee.
Ahmad Sa'adat - serving a 30-year sentence for heading the Popular Front for the Liberation of Palestine (PFLP) terror organization. A song at a PFLP event also praised him for planning the assassination of Israeli Minister of Tourism Rehavam Ze'evi in 2001, but he has not been tried for this crime.
Khalida Jarrar – Palestinian Authority MP arrested by Israeli authorities on April 12, 2015, for being a member of the terror organization Popular Front for the Liberation of Palestine (PFLP), for inciting to kidnap Israeli soldiers and inciting to terror. On Dec. 6, 2015 she was sentenced to 15 months in prison, fined 10,000 shekels, and given an additional suspended sentence of 10 months for incitement to violence and belonging to the PFLP terror organization. Jarrar was released in June 2016 following an international campaign on her behalf. She was arrested again in July 2017 and is being held in administrative detention that was extended in December 2017, and again in June 2018. The reasons for her administrative detention have not been released. Jarrar was released from detention on Feb. 28, 2019.
Um Nasser Abu Hmeid (Um Yusuf Abu Hmeid/Latifa Abu Hmeid) – Palestinian woman famous and admired in the PA for being the mother of 5 terrorist prisoners serving life sentences (4 of them serving multiple life sentences), and another whom the PA refers to as a "Martyr." Abu Hmeid is also called Khansa of Palestine, which refers to Al-Khansa from the earliest period of Islam who sent her four sons to battle and rejoiced when they all died as Martyrs. Abu Hmeid was honored by the PA in 2010 and 2015, and was chosen in 2011 to launch the PA's statehood campaign with the UN. Her terrorist sons: Islam Yusuf Abu Hmeid, murdered 1 on May 24, 2018, and is serving life in prison and an additional 8 months; Muhammad Abu Hmeid, serving 2 life sentences and 30 years for involvement in terror attacks; Nasser Abu Hmeid, serving 7 life sentences and 50 years for murdering 7 Israeli civilians and 12 attempted murders; Nasr Abu Hmeid, serving 5 life sentences for involvement in two terror attacks in which 4 were murdered, and arms dealing; Sharif Abu Hmeid, serving 4 life sentences for involvement in terror attacks in which 4 were murdered; Abd Al-Mun'im Muhammad Yusuf Naji Abu Hmeid, murdered 1 on Feb. 13, 1994, and was killed by Israel on May 31, 1994.
Nidal Zalum – Palestinian terrorist who stabbed and murdered 2 – Nissim Levy, 91, and Kalman Vardi, 60 - and wounded three others near the central Jerusalem post office on May 3, 1989. Zalum was sentenced to 2 life sentences. In October 2011, Zalum was released as part of the Shalit prisoner exchange deal between the Israeli government and Hamas, but he was arrested again in 2014 for violating the terms of his release, and is serving his reinstated original sentence.
Dolev attack – 17-year-old Rina Shnerb was murdered, and her father and brother wounded, when when Palestinian terrorists used a remote detonator to activate a bomb next to them as they visited the Danny Spring near the town of Dolev north of Ramallah on Aug. 23, 2019. Three terrorists who committed the attack were caught on Aug. 26, 2019.