Fatah senior official meets with wife of terrorist murderer of 125 people
Images and text posted on the Facebook page of Fatah Central Committee member Abbas Zaki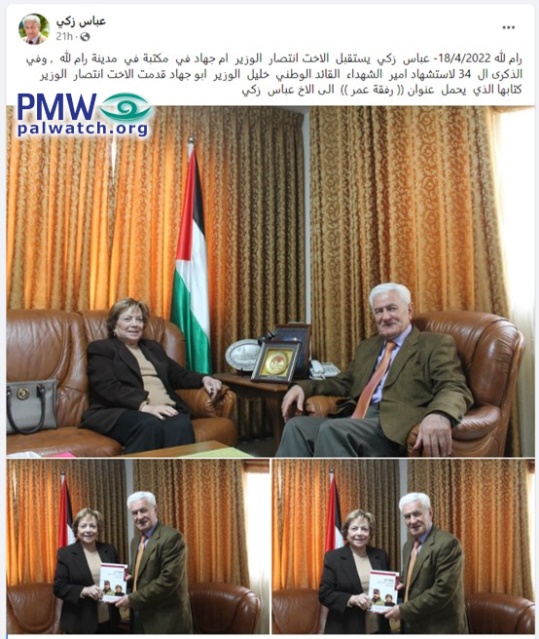 Posted text: "Ramallah – April 18, 2022
[Fatah Central Committee member] Abbas Zaki welcomed [Chairwoman of the PLO Families of the Martyrs and Wounded Institution] Intisar Al-Wazir 'Um Jihad' (i.e., the widow of terrorist Khalil Al-Wazir "Abu Jihad," who was responsible for the murder of 125) at his office in Ramallah. On the 34th anniversary of the death as a Martyr of the Prince of Martyrs, national commander Khalil Al-Wazir 'Abu Jihad,' Intisar Al-Wazir presented her book 'Companion for Life' to Abbas Zaki."
The images show Fatah Central Committee member Abbas Zaki with Chairwoman of the PLO Families of the Martyrs and Wounded Institution Intisar Al-Wazir.
Abbas Zaki also holds the position as Fatah Commissioner for Arab and China Relations
Abu Jihad (Khalil Al-Wazir) - was a founder of Fatah and deputy to Yasser Arafat. He headed the PLO terror organization's military wing and also planned many deadly Fatah terror attacks in the 1960's - 1980's. These attacks, in which a total of 125 Israelis were murdered, included the most lethal in Israeli history - the hijacking of a bus and murder of 37 civilians, 12 of them children.