Fatah spokesman: Last week's murder of three civilians is "heroic action"
Mahmoud Abbas' Fatah continues to express support for the murder of Israeli civilians as the Palestinian terror wave continues.
On Thursday, two Palestinian terrorists armed with an ax brutally murdered three Israeli civilians in the city of Elad. Between them the three fathers have 16 young children. Yonatan Habakuk was murdered in front of his six-year-old son.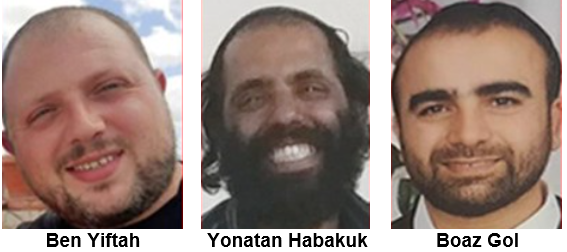 Despite the horrific brutality (or because of it), Fatah spokesman of the Jenin branch Nasri Hamamreh called the murders an "heroic action," when interviewed on Fatah's Awdah TV. Also, consistent with Fatah's presenting all of Israel as "occupied Palestinian land" the spokesman referred to the Israeli city Elad, which is situated within Israel's pre-1967 borders, as a "settlement" on "our Palestinian land."
Palestinian Media Watch reported that after the murder of 3 civilians in Tel Aviv, Mahmoud Abbas sent condolences to the family of the killed terrorist.
Fatah Spokesman, Jenin branch, Nasri Hamamreh:
"The occupation (i.e., PA euphemism for Israel) claims that two youths from the Jenin district from the town of Rummanah carried out this heroic action [murder of three civilians with an ax] in the settlement of Elad, on our Palestinian land in the settlement of Elad (Note: Elad is within the pre-1967 Israeli borders)."

[Fatah's Awdah TV, May 8, 2022]