Palestinians demonstrate outside UNRWA building by throwing eggs and burning tires
Headline: "Mass-participant demonstration against UNRWA's foot-dragging on reconstruction and against the commissioner's statements"
"Dozens of civilians demonstrated today, Monday [April 25, 2022], in front of the UNRWA (UN Relief and Works Agency for Palestine Refugees in the Near East) offices in western Gaza City, out of opposition to the policy of foot-dragging on everything connected to reconstructing their homes that were destroyed by the Israeli occupation.
The demonstrators threw eggs at the UNRWA offices and burned tires…
Ramzi Al-Masri, a civilian whose home was destroyed during the Israeli attack in the summer of last year (refers to Fatah/Hamas Riot and Rocket War 2021; see note below -Ed.), told [the independent Palestinian news agency] Ma'an: 'On the ninth day of the attack, my home in the town of Beit Hanoun was blown up by Israel. This is not the first time it was destroyed; it was already destroyed in 2015, but it was reconstructed.'
He continued: 'UNRWA promised more than once to reconstruct, but for an entire year we have received no compensation at all, and now we are in the streets. They don't even pay rent for us.' …
Al-Masri noted that his situation is difficult, as he is unemployed and has no fixed income. He demanded that the agency expedite the reconstruction of his home.
Democratic Front for the Liberation [of Palestine] (DFLP) Central Committee member Mahmoud Khalaf told Ma'an: 'The clearest message that we wanted to convey with this activity is that we completely reject the statements of [UNRWA] Commissioner-General [Philippe Lazzarini], regarding the transfer of UNRWA's roles to a number of international bodies. We interpret this as emptying UNRWA of its content.' …
Khalaf added: 'The most dangerous thing about the matter is emptying UNRWA of its political content, which is connected to the right of return and [UN] Resolution 194 (see note below -Ed.). This is very dangerous, and we came to say that we adhere to UNRWA as a clear expression of the tragedy of the Palestinian refugees. We adhere to its role on the level of aid and on the political level.' …
He emphasized: 'We will say that we no longer need UNRWA when the refugees will return to their lands, but until that happens, we must keep UNRWA as an international institution whose role is to aid the Palestinian refugees and give them employment.'"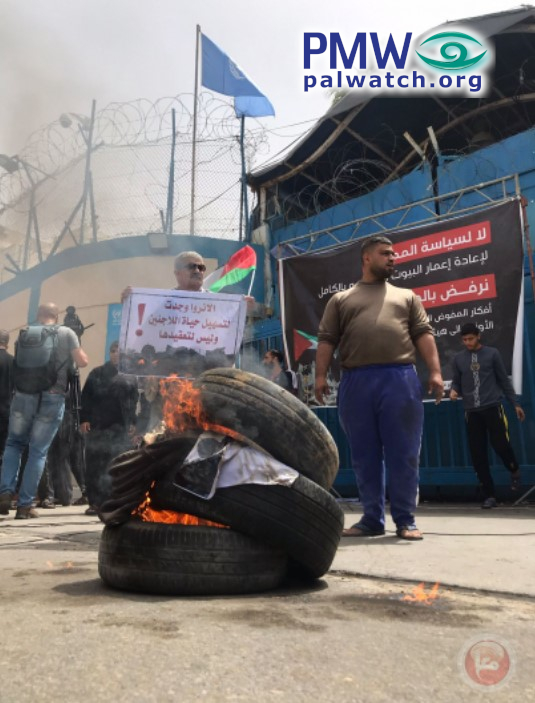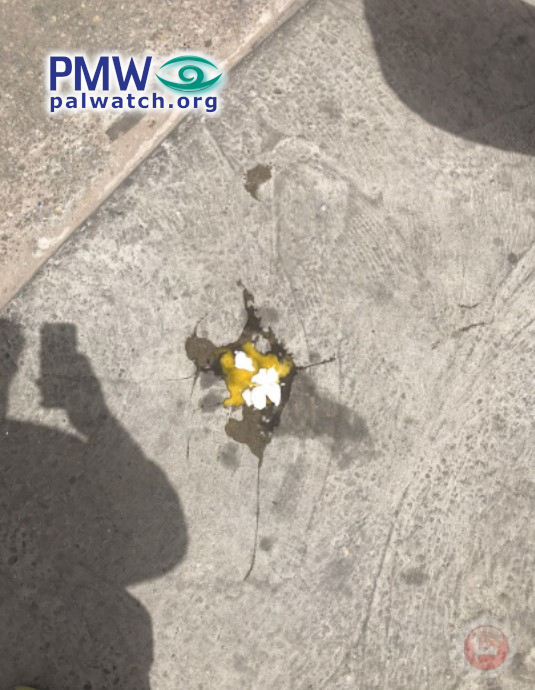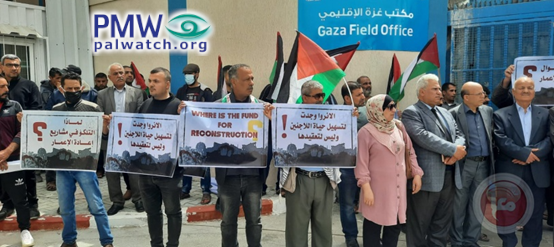 The article includes pictures from the demonstration in front of the UNRWA Gaza Field Office.
Fatah/Hamas Riot and Rocket War 2021 – On April 30, 2021, facing certain electoral defeat, PA Chairman Mahmoud Abbas cancelled the first PA elections scheduled in 15 years. Hamas, which expected to win the elections, denounced it as a "coup." In need of a conflict to divert public discontent, Abbas artificially generated a crisis over Jerusalem. His Fatah party called for "raising the level of confrontation," and Abbas' spokesman told Palestinians "the battle of all battles is here." Jerusalem Arabs responded by attacking Jews with rocks and Molotov cocktails. Hamas, Abbas' political rival, could not allow Abbas to lead the battle, so on May 10, 2021, Hamas launched rocket barrages targeting Israeli population centers including Jerusalem. Over the next 11 days, Hamas and Islamic Jihad fired over 4,300 rockets into southern and central Israel from the Gaza Strip, killing 9 Israelis and 3 foreign nationals, and wounding hundreds. In response, Israel launched Operation Guardian of the Walls to target Hamas terror leaders and terror infrastructure in the Gaza Strip. Already in mid-April, a planned eviction of some Palestinian families illegally living in Jewish-owned buildings in the Sheikh Jarrah neighborhood of Jerusalem had led to clashes between Palestinian residents and Israeli police. This dispute provided Palestinians with a pretext for violent rioting. Adding to the crisis, Israeli Arabs started rioting throughout Israel, especially in cities with a mixed Jewish and Arab population. Two Jews were murdered and many were wounded. According to Walla, an independent Israeli news site, 10 synagogues were wholly or partly burned down; fires were set in 112 Jewish homes and 1 Arab home mistaken for a Jewish home; 386 Jewish homes were plundered and 673 were damaged; 849 cars were set ablaze; and there were 5,018 rock-throwing attacks. In response, Jews started attacking Arabs and their properties as well, but on a much smaller scale. No mosques were burned; 13 Arab homes were damaged; 13 Arab-owned cars were burned; and there were 41 rock-throwing attacks by Jews. [Walla, May 16, 2021] The fighting between Israel and Hamas ended with a ceasefire on May 21, 2021.
UN Resolution 194 (Chapter 11, Dec. 11, 1948) states that "the refugees wishing to return to their homes and live at peace with their neighbors should be permitted to do so at the earliest practicable date, and that compensation should be paid for the property of those choosing not to return." Palestinian leaders argue this means that all Arabs who left Israel during the war (hundreds of thousands) and their descendants (a few million) have a "right of return" to Israel. Israel argues that the resolution only calls for a limited return and only under certain conditions, especially focusing on the words "wishing to return... and live at peace with their neighbors."