Father of terrorist who murdered 5 people states "my son was honourable up to the last moment"
Video and text posted on the Facebook page of the Fatah Commission of Information and Culture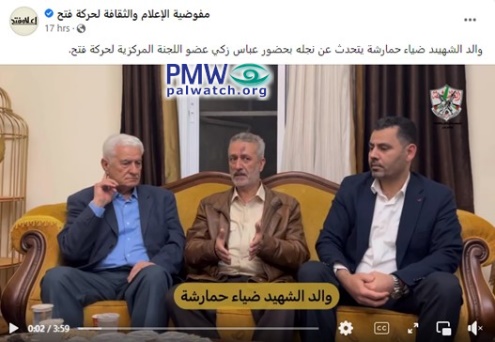 Posted text: "The father of Martyr Diya Hamarsheh (i.e., terrorist, murdered 5) speaks about his son in the presence of Fatah Movement Central Committee member Abbas Zaki."
Video:
Father of terrorist Diya Hamarsheh: "My son took revenge for the Palestinian people's honor.My son was honorable up to the last moment. He was like a lion, a fighter, brave, honorable in the sense that he does not kill children or women like the Zionist army, which murdered the woman in cold blood before the eyes of the world at the height of audacity (apparently refers to death of Ghada Sabateen, who threateningly approached soldiers and refused their calls to stop -Ed.)."
Diya Ahmed Hassan Hamarsheh - Palestinian terrorist and Fatah member who shot and murdered 5 people - Israeli civilians Rabbi Avishai Yehezkel and Ya'akov Yisrael Shalom, Israeli police officer Amir Khoury, and 2 foreign workers from Ukraine identified as Alexander and Dmitry - in Bnei Brak near Tel Aviv on March 29, 2022. An Israeli police officer shot and killed Hamarsheh, ending the attack. Hamarsheh, from Ya'abad near Jenin, had been working in Israel illegally. He was imprisoned for 6 months in 2015 for dealing in illegal weapons and membership in a terror organization.
Ghada Sabateen – 40-year-old female Palestinian terrorist who threateningly approached Israeli security forces and ignored their calls to stop, causing the forces to open fire in the air and then eventually shoot and kill her in self-defense at Husan, west of Bethlehem, on April 10, 2022. Sabateen was found to be unarmed.