After Palestinian terrorist sportsman is killed in self-defence, PA accuses Israel of targeting athletes
Headline: "Rajoub condemns the execution of Al-Khdeir club [football] player Muhammad Ghneim at the hands of the occupation"
"Chairman of the Palestinian Football Association Jibril Rajoub condemned… the execution of Al-Khdeir sports club [football] player Muhammad Ghneim (i.e., terrorist, threw a Molotov cocktail at a car), 21, at the hands of the Israeli occupation forces.
Martyr Ghneim was struck in his back by a bullet that exited from his chest while he was next to his home, which is near to the racial separation wall…
Rajoub said: 'The crime of executing player Ghneim in cold blood joins the series of racist crimes that the Israeli occupation army is incessantly committing against the Palestinian athletes and Palestinian sports, in a blatant manner that contradicts all the international laws and conventions in the humanitarian field and the field of sports.'"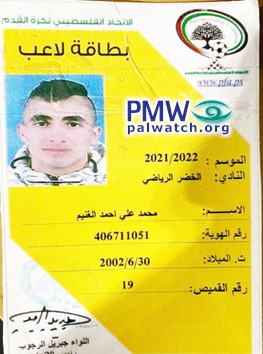 The article includes a picture of terrorist Muhammad Ghneim's Palestinian Football Association player's card.
Jibril Rajoub also serves as Head of the PLO Supreme Council for Youth and Sports, Chairman of the Palestinian Football Association, Chairman of the Palestine Olympic Committee, and Chairman of the Palestinian Scout Association (PSA).