Saddam Hussein is a "great person" according to Fatah
Image and text posted on the Facebook page of the Fatah Commission of Information and Culture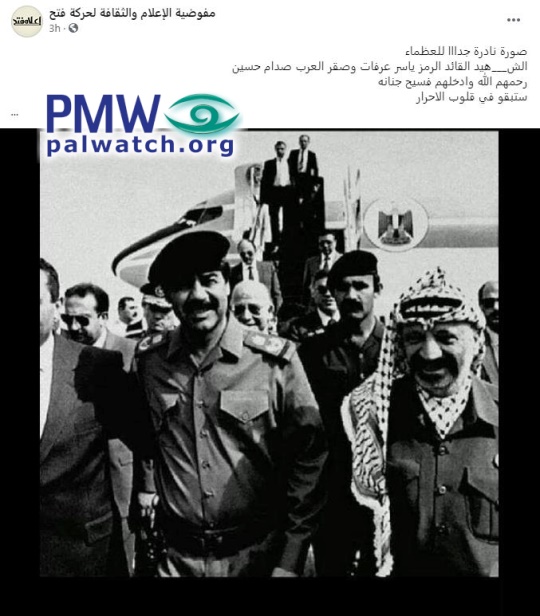 The image shows former Iraqi President Saddam Hussein on the left and former PLO and PA Chairman Yasser Arafat on the right.
Posted text: "A very rare picture of the great people,
M-artyr (the "-" is an apparent attempt to fool Facebook's algorithms –Ed.), leader, and symbol [former PLO Chairman and PA President] Yasser Arafat, and the Hawk of the Arabs [Iraqi President] Saddam Hussein.
May Allah wrap them in His mercies and place them in the expanses of Paradise.
You will remain in the hearts of the free people"
Saddam Hussein - former President of Iraq, who was convicted by an Iraqi court and executed in 2006 for ordering the Dujail massacre in Iraq in which 148 people were murdered. In order to expedite his execution, it was decided not to prosecute him for other crimes he committed.
Yasser Arafat – Founder of Fatah and former chairman of the PLO and PA. During the 1960s, 70s and 80s Arafat was behind numerous terror attacks against Israelis. Although he received the Nobel Peace Prize in 1994 together with then Israeli Prime Minister Yitzhak Rabin and then Israeli Minister of Foreign Affairs Shimon Peres "for their efforts to create peace in the Middle East" after signing the Oslo Accords peace agreement, Arafat launched a 5-year terror campaign - the second Intifada (2000-2005) – in which more than 1,000 Israelis were murdered. Arafat died of an illness in 2004.