A "map of Palestine" monument erasing Israel is inaugurated in Tunisia
Headline: "On the anniversary of the Hammam Chott massacre: A map of Palestine monument was inaugurated in Medenine, Tunisia"
"Medenine Mayor Al-Munsif bin Yamna inaugurated a monument of the map of historical Palestine (i.e., the PA map of "Palestine" that presents all of Israel as "Palestine" together with the PA areas) yesterday [Oct. 3, 2020] in the center of the city's main square…
The event was held as part of the events to mark the 35th anniversary of the Hammam Chott massacre (i.e., Operation Wooden Leg, Israeli airstrike that destroyed the PLO terror headquarters in Tunisia on Oct. 1, 1985), which was committed by the occupation against the PLO headquarters in Hammam Chott, south of the capital city Tunis. Sixty-eight Palestinians and Tunisians died in it as Martyrs. This year, it is being held under the title 'Normalization is treason' (refers to peace agreements between Israel and the UAE and Bahrain; see note below –Ed.)…
The Medenine mayor said that the fact that Tunisian blood mixed with Palestinian blood in the Hammam Chott massacre confirms that the Palestinian cause is a cause of an [entire] nation and the cause of our people.
He emphasized: 'The inauguration of the monument in the center of the city square is a kind of resistance that does not recognize time and place. This passes from generation to generation, so that we will teach our children that Jerusalem is occupied and Palestine is occupied, and that the Zionist entity and its state do not exist.' …
Ambassador of Palestine in Tunisia Hayel Al-Fahoum sent a message to those participating in the ceremony…
He noted that it is important to remind the [younger] generations that we must launch a new act of resistance, which relies on a strategy of cumulative actions… in order to create awareness of the importance of the Palestinian right's return to its owners… until the recognition of the rights and the establishment of the independent state whose capital is East Jerusalem."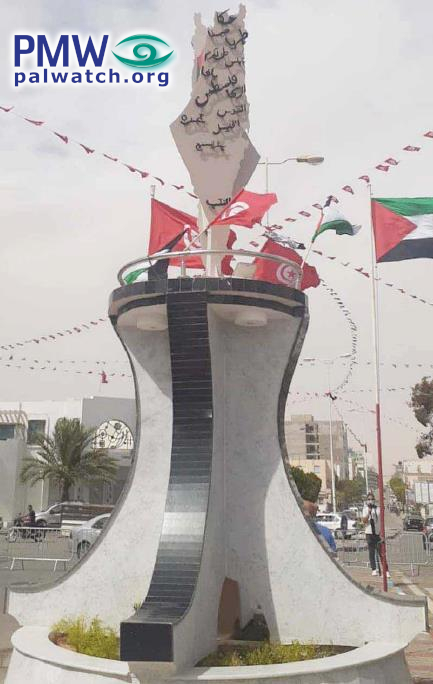 The image shows the monument in Medenine, Tunisia, featuring the PA map of "Palestine" that presents all of Israel as "Palestine" together with the PA areas. Palestinian and Tunisian flags are flying around the monument.
The names of the following cities and regions, including Israel cities and regions, are written on the map: "Acre," "Haifa," "Tiberias," "Tulkarem," "Nablus," "Jaffa," "Jericho," "Jerusalem," "Gaza," "Hebron," "Be'er Sheva," and "the Negev." On the center of the map is written "Palestine."