Fatah praises "special" terrorist Atef Abayat who murdered 5 Israelis
Video and text posted on the Facebook page of the Fatah Movement – Bethlehem Branch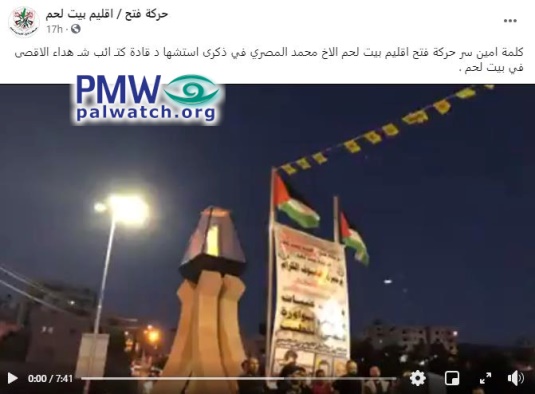 Posted text: "The speech of Fatah Movement Bethlehem Branch Secretary brother Muhammad Al-Masri for the anniversary of the deaths as Martyrs of the Al-Aqsa Martyrs' Brigades (i.e., Fatah's military wing) commanders in Bethlehem."
Video:
A sign is shown from the event for the "Martyrs" with their names written on it, identifying them as Atef Abayat, a terrorist Israel suspected of murdering 1 and committing shooting attacks, as well as Jamal Nawawreh and Issa Al-Khatib, who were killed in the same car explosion as Abayat – PMW was unable to determine the nature of their crimes.
The event was held next to the "Bethlehem Martyrs' Monument" that was inaugurated on Oct. 12, 2020.
Fatah Bethlehem Branch Secretary Muhammad Al-Masri: "What a great moment as we meet today after 19 years, while standing among the sons of the Martyrs: the son of heroic Martyr commander Atef Abayat; the son of heroic Martyr commander Jamal Nawawreh; and the children of heroic Martyr commander Issa Al-Khatib. They were small when the great ones passed away, and how small we are today facing the sacrifices of these great ones…
Every day is the anniversary of a Martyr, but on this anniversary there is a special message, a message from that diplomat who was called 'Baby Face' [Atef Abayat], whose bullets pierced the hearts of the settlers, and who imposed fear on those who thought they were protected by the walls of the settlement Gilo (i.e., the southernmost neighborhood of Jerusalem), stolen Jerusalem, and the settlements that were implanted by force in the body of Bethlehem."
Atef Abayat – Tanzim (Fatah terror faction) commander in Bethlehem who was accused of murdering Sarit Amrani in a shooting attack in the West Bank (Sept. 20, 2001). He was also accused of shooting at the Jerusalem neighborhood of Gilo. Abayat was killed in a car explosion about a month after the murder of Sarit Amrani. PMW has been unable to verify the circumstances surrounding his death.