Palestinians stand on image of UAE Crown Prince's face and call him a "traitor"
Image posted on the official Fatah Facebook page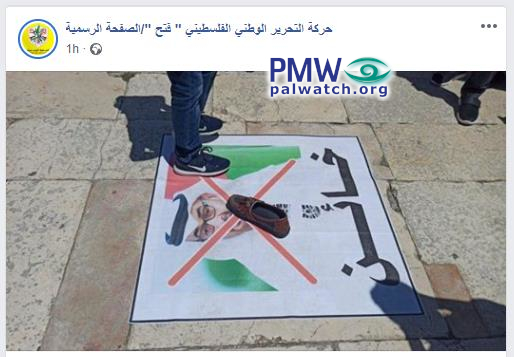 The image shows a picture placed on the ground of UAE Crown Prince Mohammed bin Zayed Al Nahyan with a red "X" over his face and the word "traitor" below him. A shoe has been placed on top of Al Nahyan's face and someone is standing on top of the picture. In Arab culture throwing shoes at someone is a sign of great disrespect for them. The image refers to the Israel-UAE peace agreement; see note below.
Israel-UAE peace agreement (Abraham Accords) – an agreement normalizing diplomatic ties between Israel and the United Arab Emirates (UAE), which was announced on Aug. 13, 2020, under the mediation of US President Donald Trump. Pursuant to the agreement, the countries will discuss bilateral cooperation on a number of topics. In exchange for the agreement, Israel agreed to suspend its previously announced plans to apply Israel's civilian law to parts of Judea, Samaria and the Jordan Valley as per the Trump peace plan. The US announced that "Muslims throughout the world who wish to come in peace to pray at the Al Aqsa Mosque, will now be able to fly to Tel Aviv through Abu Dhabi to do so and will be welcomed."