Senior officials of the PA Hebron Governorate glorify terrorist killer Nasser Abu Hmeid
Images and text posted on the Facebook page of the PA Hebron Governorate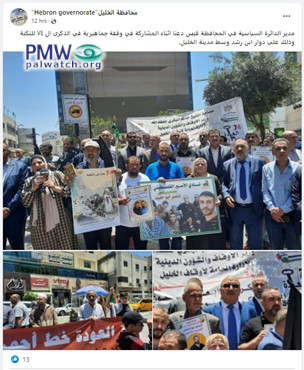 Visual:
The images show a demonstration in Hebron in which senior officials of the PA Hebron Governorate are seen holding pictures of terrorist Nasser Abu Hmeid, who was responsible for the murder of 7.
Posted text: "Director of the [Hebron] District Political Department Qais Da'na during [his] participation in a mass demonstration to mark the 74th anniversary of the Nakba (i.e., "the catastrophe," the Palestinian term for the establishment of the State of Israel) at Ibn Rushd Square in Hebron."
Nasser Abu Hmeid - Palestinian terrorist and a commander of the Al-Aqsa Martyrs' Brigades (Fatah's military wing) in Ramallah who was responsible for the murder of 7 Israelis: Eli Cohen in a shooting attack on Route 443 in central Israel on Dec. 21, 2000; Binyamin and Talia Kahane in a drive-by shooting attack near Ofra, north of Jerusalem, on Dec. 31, 2000; Gadi Rejwan in a shooting attack in the Jerusalem neighborhood of Atarot on Feb. 27, 2002; and Yosef Habi, Eli Dahan, and Police Officer Sergeant-Major Salim Barakat in an attack at the Seafood Market and Mifgash Hasteak restaurants in Tel Aviv on March 5, 2002. Abu Hmeid is serving 7 life sentences and an additional 50 years. Abu Hmeid was diagnosed with lung cancer in August 2021 and reported to be in critical condition in 2022.