"Freedom of expression only goes as far as Islam's Prophet Muhammad" declare protestors in Ramallah
Images published in the paper Al-Ayyam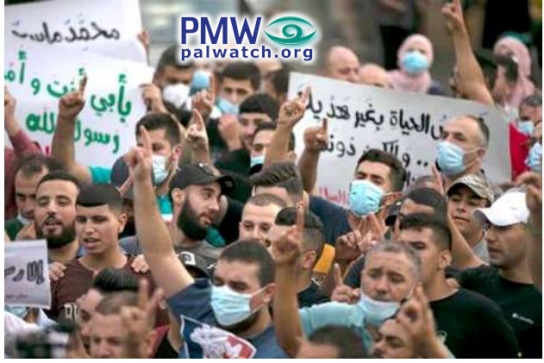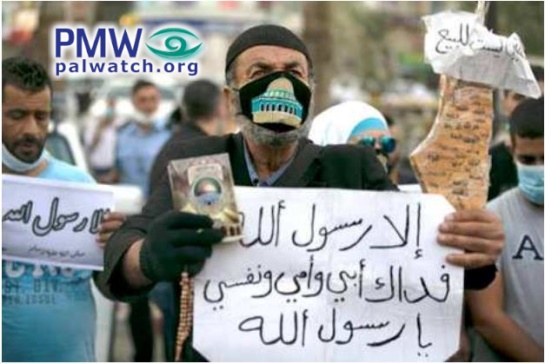 The images show protests held in Ramallah on Oct. 27, 2020, against French satirical magazine Charlie Hebdo's cartoons of Islam's Prophet Muhammad.
Text on one of the signs states that freedom of expression only goes as far as Islam's Prophet Muhammad: "Not Allah's Messenger [Muhammad]! For your sake [I would give] my father, my mother, and my life, O Messenger of Allah."
Muhammad cartoons and beheadings in France, 2020 – A Muslim terrorist murdered and beheaded French middle school teacher Samuel Paty on Oct. 16, 2020, after Paty showed his students cartoons depicting Islam's Prophet Muhammad in a class on freedom of expression. The cartoons had previously been published by the French satirical magazine Charlie Hebdo. Another Muslim terrorist then murdered 3 French citizens, one of whom he beheaded, in a terror attack at a church in Nice on Oct. 29, 2020, and yet another terrorist shot and wounded a priest in Lyon on Oct. 31, 2020. When French President Emmanuel Macron condemned the first murder as "a typical Islamist terrorist attack," Turkish President Recep Tayyp Erdogan criticized him. The Charlie Hebdo magazine then responded by publishing a cartoon showing Erdogan sitting in his underwear drinking beer, which is forbidden by Islam, and lifting the burka of a Muslim woman to expose her backside while saying "Ouuuh! The Prophet!"
Charlie Hebdo terror attacks in France, 2015: On Jan. 7, 2015, Muslim terrorists Cherif and Said Kouachi carried out a shooting attack at the Paris office of satirical magazine Charlie Hebdo. 12 people were murdered in the attack, which was a response to cartoons the magazine published about Islam's Prophet Muhammad. On Jan. 8, in a connected attack, Muslim terrorist Amely Coulibaly shot and murdered a policewoman in Paris and on Jan. 9, he shot and murdered 4 Jewish shoppers at a Paris kosher supermarket. While Abbas officially condemned the terror attacks in France, PMW has documented different PA reactions to the attacks. Some have condemned them while at the same time condemning Charlie Hebdo for mocking Islam's Prophet Muhammad. Others have compared the terror attacks in France to Israeli "terrorism" against Palestinians, and some have even claimed that Israel was behind the attacks.