Australian MPs and senators praise PMW following trip to Israel
Federal Labor Members Visit Israel
Five Labor members of Federal Parliament have reported on their recent participation in an AIJAC Rambam Israel Fellowship Program visit to Israel.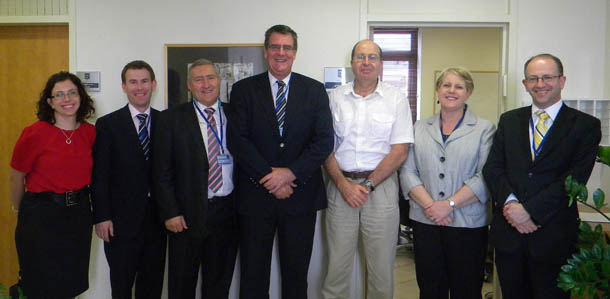 Amanda Rishworth MP, Nick Champion, Geoff Lyons MP, Senator Mark Furner, Israeli Vice Prime Minister Moshe Ya'alon MK, Senator Catryna Bilyk, Jamie Hyams

Senator Mark Furner
Participating were Queensland Senator Mark Furner, Tasmanian Senator Catryna Bilyk, Member for Kingston in South Australia Amanda Rishworth, Member for Wakefield in South Australia Nicholas Champion and Member for Bass in Tasmania Geoffrey Lyons. Three of the participants Ms Rishworth, Senator Furner and Senator Bilyk shared their impressions at a recent Australia/Israel & Jewish Affairs Council (AIJAC) luncheon.
During the visit the Labor politicians met with a wide array of analysts,politicians and community figures,travelling south to Sderot,to the Lebanon border as well as meeting with senior Palestinian figures including in Bethlehem.

Senator Catryna Bylik
Senator Furner said that he was shocked by the number of rocket attacks into Southern Israel from Gaza and the extensive network of bomb shelters that were required including in children's playgrounds. He noted that there had been over 5000 rockets fired into Israel between 2005 and 2009, and that he could not "imagine what sort of stress, what sort of anxiety those residents of Sderot would be going through on a daily basis."
Amanda Rishworth was struck by the diversity in Israel and its "vibrant democracy" as illustrated by the peaceful social protest movement, which she witnessed during her time there said
the trip was an "amazing experience".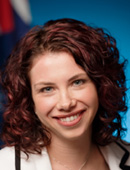 MP Amanda Rishworth
She emphasised the importance of visiting Israel to understand its complexities. She was surprised by how small Israel is and how close it was to Lebanon, Hezbollah and Gaza. Her trip enabled her to now understand the vulnerability of Sderot and that "Israel is in a tough neighbourhood".
Regarding peace efforts, Rishworth expressed that from her perspective peace is only possible through bilateral negotiations and that the Palestinians now needed to come to those negotiations. Senator Furner said that as a former negotiator he believes what is needed in negotiating is "genuine commitment that must be reciprocated by all the
MP Nicholas Champion
parties involved", and said that he knew that the Israelis were genuine but he had doubts about the commitment on the part of the Palestinians.
Following a meeting with Palestinian Media Watch, Senator Bilyk said that as a mother, a politician and an early childhood educator she was deeply concerned by the brainwashing of Palestinian children by the Palestinian media and the tendency to treat Israelis as dispensable and disposable. Senator Bilyk said that the concept of brainwashing children from the cradle "planted seeds of war" and was "child abuse".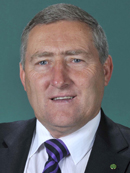 MP Geoffrey Lyons
They all said that they had a profound educational and moving experience visiting the Israeli Holocaust Museum, Yad Vashem. Rishworth saidvisiting the museum "provided dimensions that I had no idea of…being in a place where its all brought together gives you a real emotional perspective rather than just a knowledgeable perspective on the suffering that occurred."
The trip also emphasised the close relationship between Australia and Israel that crosses a broad spectrum of activities, Rishworth noting that the connection "runs deep between our two countries".
The politicians said the study visit had provided them with a profound experience and a crash course in Middle East political realities.
Jamie Hyams, Senior Policy Analyst at AIJAC accompanied the Rambam group in Israel and said, "the variety of the program allows participants to experience a broad range of perspectives about Israel and the challenges it faces."
Dr Colin Rubenstein, Executive Director of AIJAC said, "the perceptive comments made by the politicians indicated that their understanding of Middle East realities had been greatly enhanced by the visit as had their appreciation of the obstacles on the path towards a viable peace process."
http://www.jwire.com.au/news/federal-labor-members-visit-israel/19819