"We are proud" of the young children who say they want to "slaughter" Jews, says Fatah Central Committee member Abbas Zaki
Video posted on the Facebook page of Fatah Central Committee member Abbas Zaki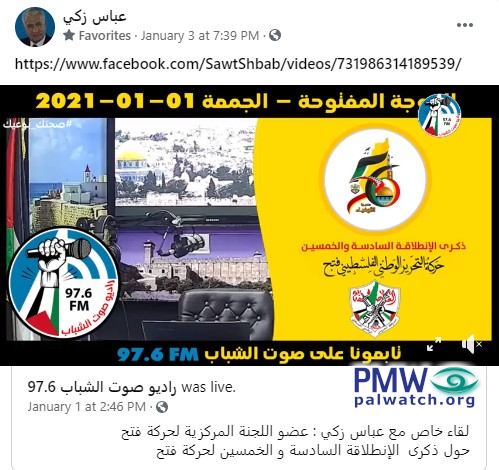 The video is of an interview with Fatah Central Committee member Abbas Zaki on The Voice of the Youth radio station for the 56th anniversary of "the Launch" of Fatah, counted from its first terror attack against Israel.
Fatah Central Committee member Abbas Zaki: "They said: 'A land without a people for a people without a land,' and here we are more numerous than they are. They said: 'The adults will die and the children will forget,' and here our children are better than us…
And also our daughters, we were forced to include the sisters in the battle, beginning with Dalal Mughrabi (i.e., terrorist who led murder of 37, 12 of them children) up to the female suicide [bombers] or Martyrdom-seekers…
Before we confront Israel, we are obligated to the Quran: 'Fight those who fight you because of religion and expel you from your homes' (a misquote of Quran 60:9, see note below -Ed.), at a time when some of the Muslims are welcoming Israel, and this is a tragedy (refers to peace agreements in 2020 between Israel and Arab states; see note below -Ed.). They are abandoning their faith, abandoning their sovereignty. They do not know exactly who Israel is. We are not against the Jews. We and the Jews are cousins. But the Zionist movement is a Western project whose goal is to separate the east of the western [Arab] region from its west, control the region's resources, and prevent the Arabs from revival and progress. That appears in the 1907 Campbell-Bannerman report (PMW could find no reliable record of such a report, and the minutes of the 1907 Imperial Conference led by former British Prime Minister Henry Campbell-Bannerman disprove claims of a conspiracy to dominate the Middle East by establishing Israel –Ed.)…
We still believe in peace. But which peace? A true peace of knights, a peace of brave people, like [former PLO Chairman and PA President] brother Yasser Arafat said, and [PA President] brother Mahmoud Abbas also says this; because honestly, we may be unable to deal [with Israel] in light of the great weapons that Israel and the US have that frighten the entire world. But in a confrontation, we will triumph…
One of the biggest satellite [TV] channel owners in the US, Ted Koppel (sic., Koppel was a broadcast journalist and news anchor, not a TV channel owner), came in 1987 to prepare daily reports from the [first] Intifada (i.e., Palestinian wave of violence and terror against Israel, approximately 200 Israelis murdered, 1987-1993) and see what is happening on the ground. He passed by a nine- or 10-year-old child standing on a trash heap and holding rocks, as if he were preparing. [Koppel] stopped with the camera and photographer and asked him: 'What are you doing here?' [The child] answered: 'I am waiting for Jews.' [Koppel] asked: 'Why?' He answered: 'Because they killed my uncle. I want to slaughter them.' [Koppel] told him: 'Go home,' and he berated him: 'Go, that's enough.' [The child] answered him: 'Ah, so you're a Jew. You're one of them, you're from Israel.' He began to chase him and throw rocks at him, and he chanted: 'Palestine is our land and the Israelis are our dogs.' He ran after him, and [Koppel] ran. He goes and the scene changes, [then you see] a [Jewish] child dressed in beautiful clothes in front of a building with a tiled roof, in other words, something fancy, and he also had a schoolbag. [Koppel] stood next to him. [This child was] the same age as the [Palestinian child], except the other stood on a trash heap and was in a rough state and had snot dripping. But this one was tidy. [Koppel] asked him: 'Why are you standing here?' He answered: 'I am waiting for my mother.' [Koppel] asked him: 'Why?' He answered: 'So that she will take me to school.' [Koppel] asked him: 'Where is the school?' He answered him: 'At the edge of the settlement,' in other words, a bit far. [Koppel] told him: 'Walk .' He answered him: 'The Arabs will kidnap me.' … [Koppel] said: 'May God have mercy on [first Israeli Prime Minister David] Ben Gurion who established the state in the generation of the great ones, and may God curse [then Israeli Prime Minister Yitzhak] Shamir who does not understand that the [young] Palestinian generation is full of confidence and strength while the [young] Israeli generation is in a state of emptiness, fear, and panic. The Intifada must be stopped with any kind of solution in order to prevent a future slaughter of the Jews of the area' (PMW was unable to find any record of Koppel making such a statement or the aforementioned footage -Ed.).
Look how far it went. If one of our children causes someone like Ted Koppel to say such things, our situation is good. We are proud that the young people are the future. They are the hope. Therefore, I say whole-heartedly: Every young person who Israel arrests or murders, it is as if it has killed an entire world, because if [Israel's] behavior towards these pioneers remains as it is I think that this is a double-edged sword, but if there will be peace they will be like those who followed our lord messiah the Palestinian [Jesus] (sic., Jesus was not Palestinian), and also [those who followed] the tolerant message of our lord Muhammad, peace be upon him."
Abbas Zaki also holds the position as Fatah Commissioner for Arab and China Relations
Quran 60:9 reads as follows: "Allah only forbids you from those who fight you because of religion and expel you from your homes and aid in your expulsion - [forbids] that you make allies1 of them. And whoever makes allies of them, then it is those who are the wrongdoers." (Sahih International translation)
Intilaqa - "the Launch" refers to the beginning of Fatah on Jan. 1, 1965, when it carried out its first terror attack against Israel, attempting to blow up Israel's National Water Carrier.
Dalal Mughrabi – female Palestinian terrorist who led the most lethal terror attack in Israel's history, known as the Coastal Road massacre, in 1978, when she and other Fatah terrorists hijacked a bus on Israel's Coastal Highway, murdering 37 civilians, 12 of them children, and wounding over 70.
Israeli peace agreements with the UAE and Bahrain (the Abraham Accords), Sudan, Morocco, and Bhutan – an agreement normalizing diplomatic ties between Israel and the United Arab Emirates (UAE) was announced on Aug. 13, 2020, under the mediation of US President Donald Trump. Following the UAE, Bahrain reached a similar peace agreement with Israel, as was announced on Sept. 11, 2020. The agreements were signed at the White House on Sept. 15, 2020, by Trump, Israeli Prime Minister Benjamin Netanyahu, UAE Minister of Foreign Affairs Abdullah bin Zayed Al Nahyan, and Bahraini Minister of Foreign Affairs Abdullatif bin Rashid Al Zayani. Pursuant to the Abraham Accords, Israel and the UAE will discuss bilateral cooperation on a number of topics. In exchange for the agreement, Israel agreed to suspend its previously announced plans to apply Israel's civilian law to parts of Judea, Samaria, and the Jordan Valley as per the Trump peace plan. The US announced that "Muslims throughout the world who wish to come in peace to pray at the Al Aqsa Mosque, will now be able to fly to Tel Aviv through Abu Dhabi to do so and will be welcomed."
On Oct. 23, 2020, Sudan also formally agreed to normalize relations with Israel. Israel reached similar normalization agreements with Morocco on Dec. 10, 2020, and Bhutan on Dec. 12, 2020.
Yasser Arafat – Founder of Fatah and former chairman of the PLO and PA. During the 1960s, 70s and 80s Arafat was behind numerous terror attacks against Israelis. Although he received the Nobel Peace Prize in 1994 together with then Israeli Prime Minister Yitzhak Rabin and then Israeli Minister of Foreign Affairs Shimon Peres "for their efforts to create peace in the Middle East" after signing the Oslo Accords peace agreement, Arafat launched a 5-year terror campaign - the second Intifada (2000-2005) – in which more than 1,000 Israelis were murdered. Arafat died of an illness in 2004.