PLO encourage children to look up to terrorists
Images and text posted on the Facebook page of the PLO Supreme Council for Youth and Sports

Posted text: "Hebron district, pictures from the 2022 [PLO Supreme Council for Youth and Sports] summer camp program"

Visual:
The images show participants in the PLO Supreme Council for Youth and Sports summer camps doing a puzzle activity arranging segments of pictures. One of the pictures is of Fatah terror leader and prisoner Zakariya Zubeidi, who oversaw numerous lethal attacks, and another is of terrorist Dalal Mughrabi, who led the murder of 37, 12 of them children.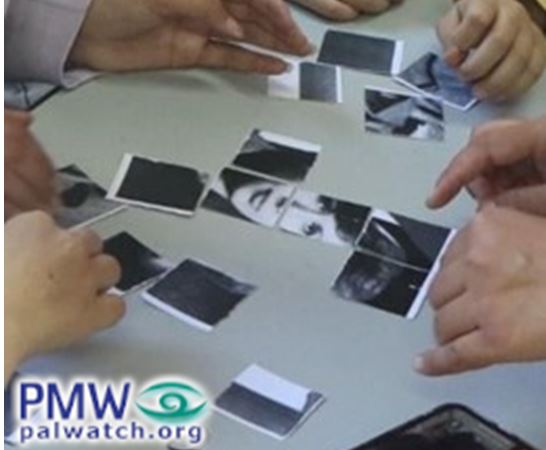 Zakariya Zubeidi - Palestinian terrorist and head of the Al-Aqsa Martyrs' Brigades (Fatah's military wing) in the Jenin area during the PA terror campaign (the second Intifada, 2000-2005), when he oversaw numerous lethal attacks. Zubeidi was taken off Israel's wanted list in 2007 on condition that he refrain from terror as part of a deal with the PA; he was subsequently given a position in the PA Ministry of Prisoners' Affairs and made a Fatah Revolutionary Council member. Zubeidi was arrested by Israel on Feb. 27, 2019, for breaching the deal by committing several shooting attacks with an accomplice - East Jerusalem lawyer Tareq Barghut who worked in the PA Ministry of Prisoners' Affairs - near Beit El north of Ramallah on Nov. 7, 2018 and Jan. 5, 2019, and north of Jerusalem in late 2018; Zubeidi used a car issued to him by the PA in the attacks. Israel has put Zubeidi on trial for all of his past terror activity. Zubeidi escaped from Israel's Gilboa Prison on Sept. 6, 2021, together with 5 Islamic Jihad terrorist prisoners who shared a cell with him, by digging a tunnel out through the floor with a spoon.
Dalal Mughrabi – female Palestinian terrorist who led the most lethal terror attack in Israel's history, known as the Coastal Road massacre, in 1978, when she and other Fatah terrorists hijacked a bus on Israel's Coastal Highway, murdering 37 civilians, 12 of them children, and wounding over 70.