PLO accuses Israel of "implementing a policy of slow murder" against Palestinian prisoner
Image and text posted on the Facebook page of the PLO Commission of Prisoners' Affairs
Posted text: "In its report today, Thursday [Aug. 18, 2022], the [PLO] Commission of Prisoners' [Affairs] warned against the deterioration of the health of sick prisoner Nasser Abu Hmeid (i.e., terrorist, responsible for murder of 7), who is having systematic health violations committed against him, as he is being targeted in an ongoing manner, and the Israeli Prison Service management is implementing the policy of slow murder against him (sic., see note below regarding PA libel on medical abuse of Palestinian prisoners)."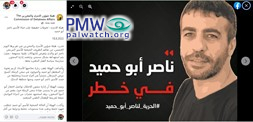 The image shows terrorist Nasser Abu Hmeid.
Nasser Abu Hmeid - Palestinian terrorist and a commander of the Al-Aqsa Martyrs' Brigades (Fatah's military wing) in Ramallah who was responsible for the murder of 7 Israelis: Eli Cohen in a shooting attack on Route 443 in central Israel on Dec. 21, 2000; Binyamin and Talia Kahane in a drive-by shooting attack near Ofra, north of Jerusalem, on Dec. 31, 2000; Gadi Rejwan in a shooting attack in the Jerusalem neighborhood of Atarot on Feb. 27, 2002; and Yosef Habi, Eli Dahan, and Police Officer Sergeant-Major Salim Barakat in an attack at the Seafood Market and Mifgash Hasteak restaurants in Tel Aviv on March 5, 2002. Abu Hmeid is serving 7 life sentences and an additional 50 years. Abu Hmeid was diagnosed with lung cancer in August 2021 and reported to be in critical condition in 2022.
Libel on medical abuse of Palestinian prisoners - the PA claims that Israel abuses Palestinian prisoners, through medical neglect, medical experiments, and by intentionally infecting them with diseases. However, the International Red Cross regularly visits these prisoners and has not documented or accused Israel of any of these claims. Likewise, lists of demands occasionally issued by the prisoners during hunger strikes - such as during one in 2011 - include no demands relating to these claims. PMW has documented prisoners talking about how they "lack nothing" in the prisons, and that "the worst thing about Israeli prison" is riding in a prison vehicle that has no padding on the seat. When PMW contacted the Israeli Ministry of Health in 2007 regarding PA claims of medical experiments on prisoners, the ministry responded: "Clinical testing on prisoners in prison was never approved, never performed, and is most certainly not taking place at present."