Fatah high official seeks collaboration with Hamas in order to fight Israel
Video posted on the Facebook page of Fatah Central Committee Secretary Jibril Rajoub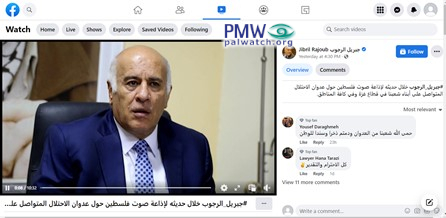 The video contains a radio interview with Fatah Central Committee Secretary Jibril Rajoub on Israel's Operation Breaking Dawn to weaken Islamic Jihad's terror infrastructure – see note below.
Fatah Central Committee Secretary Jibril Rajoub: "The last topic is that we are investing efforts on the ground and working so that the increasing pace of [Israeli] terror will also constitute an incentive for the building we are lacking, which I spoke about at the beginning – that we will enter dialogue on building a united Palestinian national strategy that will define the boundaries of the struggle with the occupation in all the Palestinian lands, in the West Bank, Jerusalem, and the Gaza Strip, in order to defend the residents, to defend our land, to defend our trees, our honor, and the like, as a preface towards strengthening our unity and achieving the rapprochement between us [in Fatah and Hamas]."
Jibril Rajoub also serves as Head of the PLO Supreme Council for Youth and Sports, Chairman of the Palestinian Football Association, Chairman of the Palestine Olympic Committee, and Chairman of the Palestinian Scout Association (PSA).
Operation Breaking Dawn - Following the arrest of Islamic Jihad's West Bank commander Bassam Al-Sa'adi on Aug. 1, 2022, the terror organization planned to attack Israeli civilians living near the Gaza Strip, according to Israeli military intelligence. Israel was forced to put those civilians in total lockdown, closing all roads and cancelling buses and trains. After three days of lockdown, on Aug. 5 Israel began attacking the terror organization's infrastructure and killed two of its top leaders, northern Gaza commander Tayseer Jabari and southern Gaza commander Khaled Mansour. Islamic Jihad fired over 1,100 rockets and missiles at Israeli residential areas, with approximately 200 rockets falling short inside Gaza, killing at least 16 Palestinian residents including children. Hamas reported a total of 44 Palestinians killed during the operation, at least 15 of whom were members of terror organizations. Operation Breaking Dawn ended with a ceasefire under Egyptian mediation on Aug. 7, 2022.