Fatah youth movement teaches young children to do terror
Image posted on the official Fatah Facebook page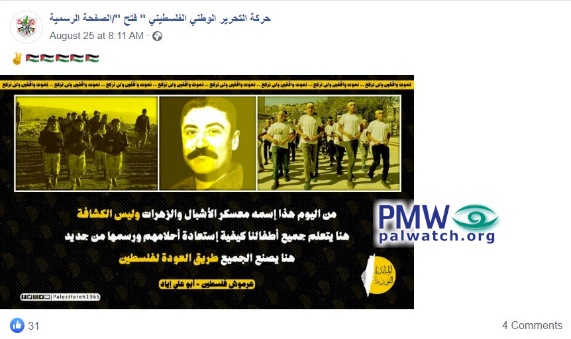 The image shows pictures of children marching in military drills on the left and right, with a picture in the middle of former Fatah terror leader Abu Ali Iyad. In the bottom right is the PA map of "Palestine" that presents all of Israel together with the PA areas as "Palestine."
Repeating text at top in yellow band: "We will die standing upright and will not surrender"
Text at bottom: "From this day its name is the Lion Cubs and Flowers camp (i.e., Fatah's Lion Cubs and Flowers children's movement) and not the scouts.
Here all our children will learn how to restore their dreams and sketch them anew.
Here everyone will pave the path of return to Palestine.
Abu Ali Iyad"
Abu Ali Iyad was appointed head of Fatah military operations in 1966 and was responsible for several terror attacks. The attacks included a bombing in the town of Beit Yosef in northern Israel on April 25, 1966 (injuring 3 people), and placing bombs in the town of Margaliot in northern Israel on July 19, 1966. He was killed in 1971 in Jordan by the Jordanian army when it forced Fatah members out of the country.