Children participate in Fatah protest calling to return terrorists' bodies
Official PA TV News, on a Fatah protest rally in Nablus demanding that Israel return the bodies of dead terrorists including Bilal Rawajbeh – see note below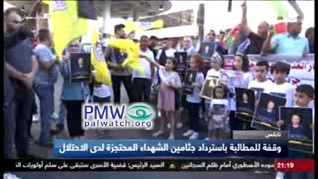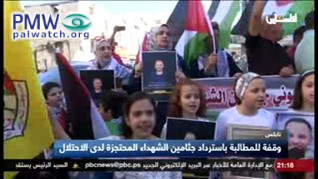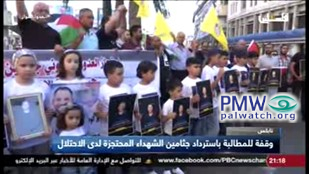 Visual:
Young children are seen participating in the rally, in which yellow Fatah flags and Palestinian flags are being waved.
Bodies of dead terrorists - In certain instances, Israel does not release the bodies of dead terrorists for burial by their families. There are three main reasons for this practice: First, the measure is seen as a deterrent since the fear of not receiving a proper burial as a "Martyr" or of leaving suffering parents behind may discourage potential terrorists. Second, since 2014 the Hamas terror organization has refused to release the bodies of 2 Israeli soldiers killed in Gaza, and it is also holding 2 Israeli civilians who strayed into Gaza in captivity - the bodies of the terrorists are thus held to facilitate negotiations for their return to Israel. Third, in some instances the bodies of terrorists are not released in order to prevent disturbances of the peace and incitement during the funerals.
Bilal Rawajbeh – Palestinian terrorist and PA Preventive Security Forces member who shot at Israeli soldiers at a military post near Nablus on Nov. 4, 2020, reportedly using a PA Security Forces issued handgun. The soldiers killed Rawajbeh in self-defense.