PA TV highlights campaign against "normalization in sports" in Jerusalem
Official PA TV News
Official PA TV newsreader: "No to normalization in sports – the Jerusalem residents have begun an information campaign against the attempts to attract athletes to the Israeli clubs."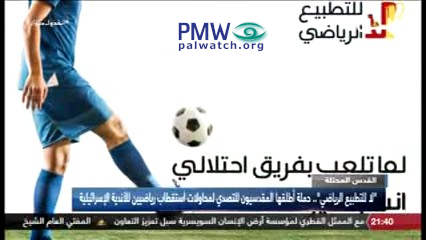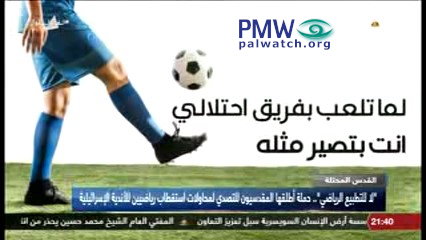 Visual:
The screenshot shows a poster of the campaign featuring a football player juggling a ball.
Text in upper right: "No to normalization in sports"
Text on right: "When you play with a team of the occupation you become like it"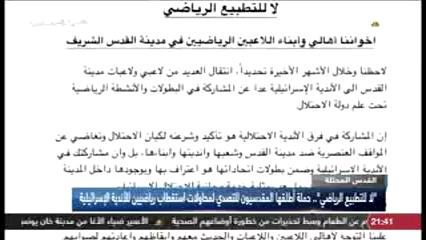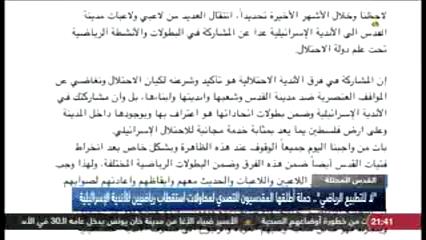 The screenshot shows a document.
Text: "No to normalization in sports
Our brothers, parents and children of the sports athletes in noble Jerusalem
We have noticed particularly in recent months that a number of male and female athletes from Jerusalem have moved to the Israeli clubs, aside from participating in tournaments and sports activities under the flag of the occupation state.
Participating in teams of the occupation clubs is a confirmation and legitimization of the occupation entity and ignores the racist positions against Jerusalem, its people, its clubs, and its sons. Moreover your participation in the Israeli clubs and in the framework of [Israel's] association tournaments is recognition of it and of its existence inside the city and on the land of Palestine, which is considered a free service for the Israeli occupation.
It is now the duty of us all to spend time on this phenomenon, especially after young women from Jerusalem also joined these clubs and the framework of the various sports tournaments. Therefore, it is our duty to contact the parents of the male and female athletes and to speak with them, wake them up, and bring them back to the straight path."