Official Fatah Facebook page calls terrorist murderers "heroic Martyrs"
Images and text posted on the official Fatah Facebook page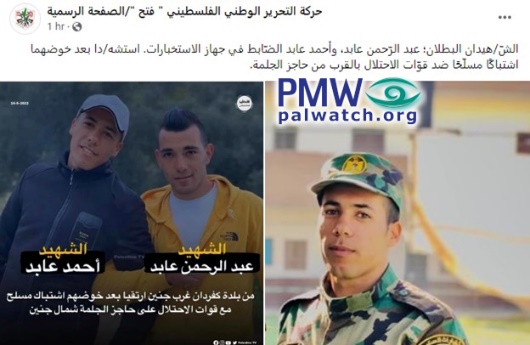 Posted text: "The two heroic Martyrs Abd Al-Rahman Abed and Ahmed Abed (i.e., terrorists, murdered 1), an officer in the [PA] military intelligence, died as Martyrs in exchanges of fire with the occupation forces next to Jalame checkpoint."
The image shows terrorist Ahmed Abed in his PA Security Forces uniform.
The image shows terrorists Abd Al-Rahman Abed and Ahmed Abed.
Text on image: "Martyr Abd Al-Rahman Abed
Martyr Ahmed Abed
From the town of Kafr Dan west of Jenin ascended to Heaven following exchanges of fire with the occupation forces at the Jalame checkpoint north of Jenin"
Ahmed Abed and Abd Al-Rahman Abed - Palestinian terrorists and members of the Al-Aqsa Martyrs' Brigades (Fatah's military wing) who shot and killed Israeli army officer Maj. Bar Falah, deputy commander of the Nahal brigade, at Jalame checkpoint near Jenin on Sept. 14, 2022. Other soldiers returned fire, killing the two terrorists. Ahmed Abed was an officer in the PA Security Forces. Fatah officially took responsibility for the attack in a Facebook post that was subsequently removed.