$306,972 and university degrees – PA rewards to Hamas terrorist involved in suicide bombing that murdered 23
Do you know what a Palestinian terrorist who aided a suicide bomber who murdered 23 people received in prison? A generous salary and university degrees!
As Palestinian Media Watch has documented, the PA rewards imprisoned terrorists financially with monthly salaries from the day of arrest. In addition, the PA grants imprisoned terrorists several benefits, among them the possibility to earn university degrees. This is done in cooperation with the PA Ministry of Education and several Palestinian universities.
One imprisoned terrorist who has benefited from both is Hamas member Majdi Za'atri, who is serving 23 life sentences for transporting a suicide bomber to the bus the bomber chose for his attack and where he ultimately murdered 23, including children and babies, in 2003. Za'atri's father proudly listed the degrees his murderer son has or will obtain while in prison:
Official PA TV host: We will talk about the dreams and ambitions of Majdi Za'atri (i.e., terrorist, involved in murder of 23)… He took advantage of the years in the occupation's prisons. Has he obtained any certificates inside prison? …

Barakat Za'atri, father of terrorist Majdi Za'atri: "Allah be praised, he obtained a matriculation exam certificate, and after three years obtained a bachelor's degree in social work. Now he is registered for a master's degree, Almighty Allah willing, and within a year he will have a master's degree."

[Official PA TV, Good Morning Jerusalem, Sept. 23, 2022]
In addition to free education for his involvement in the murder of 23 people, Za'atri has received a steady salary according to the PA's "Pay-for-Slay" program. By the end of December 2022 the PA will have paid him $306,972 (1,081,800 shekels):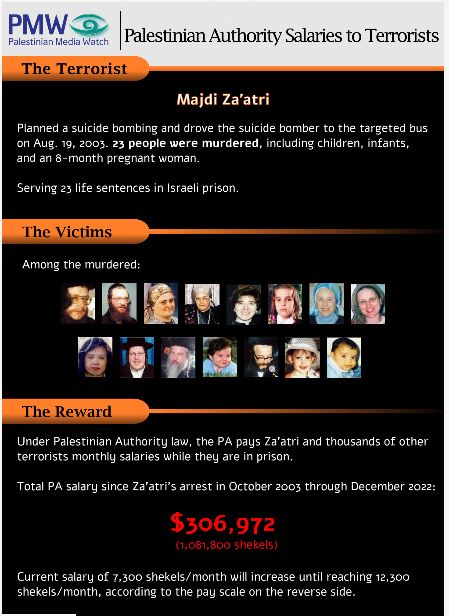 Za'atri and the suicide bomber, Raed Misk, had two accomplices, Nassim Za'atri and Abdallah Sharabati, who are also in prison. As the PA also pays allowances to the families of dead terrorists – the "Martyrs" – PMW has been able to calculate the accumulative sum the PA has paid to the three living terrorist prisoners and the family of the dead suicide bomber. With salaries steadily rising with the time spent in prison, and including additions for wives and children, and bonuses for being residents of Jerusalem, the amount the PA has paid the four terrorists comes to at least $945,574 - 3,340,600 shekels!

Majdi Za'atri – Palestinian terrorist and Hamas member who participated in the planning of the suicide bombing on the no. 2 bus in Jerusalem on Aug. 19, 2003, in which 23 were murdered, including children and babies. He also transported suicide bomber Raed Misk to the bus stop where he boarded the bus. Za'atri is serving 23 life sentences and an additional 23 years.