Fatah calls terrorist Wadi Al-Houh "Fatah leadership member"
Image and text posted on the Facebook page of the Fatah Commission of Information and Culture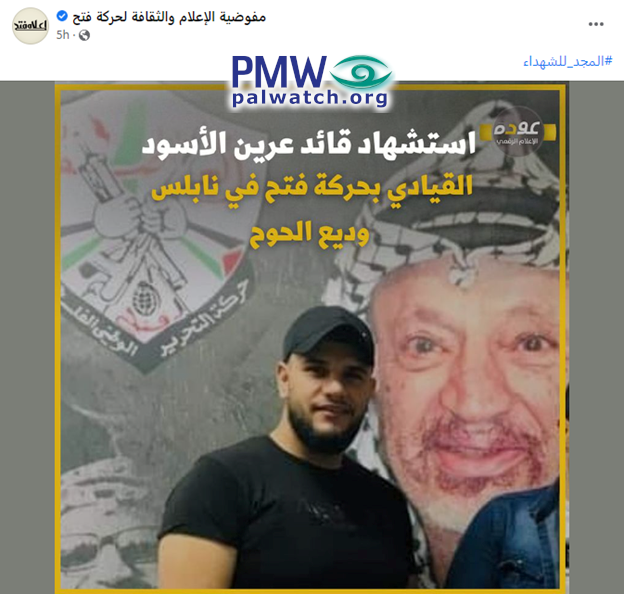 Posted text: "#Glory_to_the_Martyrs"
The image shows senior member of the independent terror cell "The Lion's Den" Wadi' Al-Houh, who shot at Israeli security forces raiding a headquarters of the cell and was killed along with 4 other terrorists. On the right is former PLO and PA Chairman Yasser Arafat, and on the left is the Fatah logo that includes a grenade, crossed rifles, and the PA map of "Palestine" that presents all of Israel together with the PA areas as "Palestine." In the upper right corner is the logo of Fatah-run Awdah TV.
Text on image: "Commander of the Lion's Den and Fatah Movement leadership member in Nablus Wadi' Al-Houh died as a Martyr"
Wadi' Al-Houh, Ali Antar, Hamdi Qayyim, Mash'al Baghdadi, Hamdi Sharaf – The "confrontation" refers to Palestinian terrorists and members of the independent terror cell "the Lion's Den" who shot at Israeli soldiers when they raided and destroyed a headquarters and weapons and explosives laboratory of the cell in Nablus on Oct. 25, 2022. During the raid, PA Security Forces shot at the Israeli soldiers, who returned fire in self-defense wounding several members of the PA Security Forces. The soldiers also came under fire from members of the terror cell and returned fire, killing 5 terrorists: Wadi' Al-Houh, Ali Antar, Hamdi Qayyim, Mash'al Baghdadi, Hamdi Sharaf. Al-Houh was a senior member of "the Lion's Den."
Yasser Arafat – Founder of Fatah and former chairman of the PLO and PA. During the 1960s, 70s and 80s Arafat was behind numerous terror attacks against Israelis. Although he received the Nobel Peace Prize in 1994 together with then Israeli Prime Minister Yitzhak Rabin and then Israeli Minister of Foreign Affairs Shimon Peres "for their efforts to create peace in the Middle East" after signing the Oslo Accords peace agreement, Arafat launched a 5-year terror campaign - the second Intifada (2000-2005) – in which more than 1,000 Israelis were murdered. Arafat died of an illness in 2004.