Birzeit University held symbolic funeral for terrorist stabber
Headline: "A symbolic funeral for student Martyr Amer Halabiyeh at Birzeit University"
"The students at Birzeit University participated in a symbolic funeral yesterday [Nov. 5, 2022] for student Martyr Amer Halabiyeh (i.e., terrorist, wounded 1), 20, from Beit Hanina in eastern occupied Jerusalem.
Those participating in the funeral, which was organized by the student movement at the university, carried a symbolic coffin covered with the Palestinian flag. They hung pictures on it of student Martyr Halabiyeh, who was shot by the Israeli occupation forces and ascended to Heaven in the Old City of occupied Jerusalem two days ago.
The students walked around the university's roads while carrying the coffin on their shoulders, Palestinian flags, and pictures of Martyr Halabiyeh. They chanted for national unity in the confrontation with the occupation, and chanted to settle accounts with it for its incessant crimes against our defenseless people."
The article includes a picture from the event, in which Birzeit University students are seen carrying Palestinian flags and pictures of terrorist Amer Halabiyeh.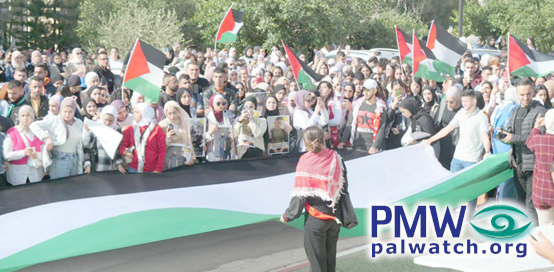 Amer Halabiyeh – 20-year-old Palestinian terrorist who stabbed and wounded an Israeli police officer in the Old City of Jerusalem on Nov. 3, 2022. Other officers at the scene shot and killed Halabiyeh, thereby stopping his attack.