Jibril Rajoub has paid tribute to terrorist Fatima Barnawi
Fatah Central Committee Secretary Jibril Rajoub posted an image and text on his Facebook page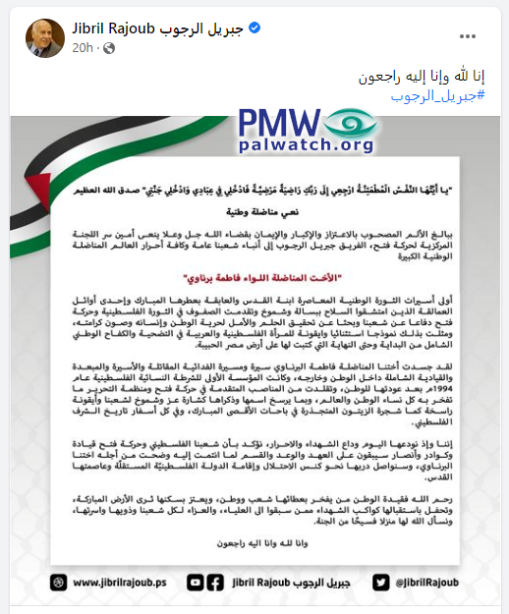 Posted text: "We belong to Allah and to Him we return
#Jibril_Rajoub"
The image shows a eulogy for terrorist Fatima Barnawi, who placed a bomb in a movie theater.
Text on image: "Before all our people and all the free people in the world, Fatah Movement Central Committee Secretary Jibril Rajoub eulogized great female national fighter sister Fatima Barnawi (i.e., terrorist, placed bomb in movie theater), the first female prisoner of the modern [Palestinian] national revolution, a native of Jerusalem, the one who emits her blessed scent, and one of the first women giants who drew weapons with heroism and heads held high, and she stood at the head of the ranks of the Palestinian revolution and Fatah in defending our people and seeking to realize the dream and hope of freedom for the homeland and its people and preserving its dignity. She thus constituted an extraordinary model and symbol of sacrifice and comprehensive national struggle for the Palestinian and Arab woman from beginning to end."
Jibril Rajoub also serves as Head of the PLO Supreme Council for Youth and Sports, Chairman of the Palestinian Football Association, Chairman of the Palestine Olympic Committee, and Chairman of the Palestinian Scout Association (PSA).
Fatima Barnawi – Palestinian female terrorist who placed a bomb in a movie theater in Jerusalem in 1967. The bomb failed to explode. She was sentenced to life in prison but was released in 1977 after serving 10 years. Following the 1993 Oslo Accords, Barnawi was tasked with establishing the PA women's police force. In 2015, PA Chairman Mahmoud Abbas honored Barnawi with the Military Star of Honor. Barnawi died on Nov. 3, 2022.