When he wants to, Palestinian leader Mahmoud Abbas knows how to condemn terror.
Even while issuing ostensible condemnations of Palestinian attacks against Israelis, Abbas continues to promote, incite and reward terror.
While the international community was quick to condemn today's attacks in Jerusalem, 8 hours later, Abbas is still silent.
While UNICEF is quick to condemn the death of Palestinian children, it shies from condemning the death of Israeli children from Palestinian terror.
This morning, two bombs exploded in Jerusalem. 16-year-old Canadian Aryeh Shechopek, was murdered, while another 23 were injured, some seriously. Among the injured was at least one American citizen.
While the attacks were widely condemned, two condemnations were significantly absent: The condemnation of Palestinian leader Mahmoud Abbas and the organizations he heads - the Palestinian Authority and the Palestine Liberation Organization; and the condemnation of the UN Children's Agency - UNICEF
When Abbas wants to condemn terror he knows exactly how to do it. Responding to the Nov. 13, 2022 terror attack in Istanbul, Abbas was quick to announce:
"Yesterday [Nov. 13, 2022, PA] President Mahmoud Abbas condemned the terror bombing that took place in Taksim Square in the center of Istanbul, which left 6 dead and 58 wounded (refers to bombing on Nov. 13, 2022, at least 6 dead and 81 wounded, which was reportedly committed by the Kurdistan Workers Party -Ed.).

In a condolences telegram to his Turkish counterpart [President] Recep Tayyip Erdogan, the president said: 'We received the news about the dead and wounded as a result of the bombing in Taksim Square in the center of Istanbul with great sorrow. We condemn this despicable terror attack and those who stand behind it, whose goal that has no chance of success was to destabilize the security and stability of sister Turkey.'

[Official PA daily Al-Hayat Al-Jadida, Nov. 14, 2022]
While Abbas has occasionally issued statements ostensibly condemning Palestinian attacks against Israelis, he has done so only when the nature of the attack or its circumstances forced him into a corner. Even then, the condemnations were never unequivocal, and always equated the Palestinian terror with Israeli actions to prevent terror. After issuing the ostensible condemnations, Abbas, the PA and the PLO, all continued their incitement of terror and their "Pay-for-Slay" policy, paying cash rewards to the same terrorists whose actions they had ostensibly condemned.

While Abbas remained silent regarding the double attack in Jerusalem, he did find time to send condolences to Chinese President Xi Jinping, for the deaths caused by a fire in China: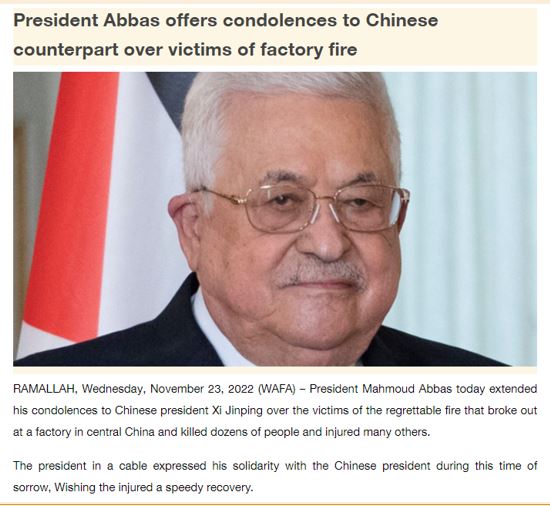 [Wafa, English edition, Official PA news agency, Nov. 23, 2022]

Another condemnation that was significantly missing was that of Lucia Elmi, the UNICEF Special Representative for the "State of Palestine."
While Elmi and UNICEF Palestine are often quick to condemn Israel when Palestinian minors are killed, even though they were intentionally sent to be "Martyrs" by PA leaders, their silence when Israeli children are murdered in open acts of terror is deafening.
Sadly, while this week started with UN World Children's Day, Elmi and UNICEF have completely ignored Palestinian Media Watch's clear documentation of the PA abuse of Palestinian children, including the recruitment of children to participate in terror and die.
Maybe this time, since the victim was Canadian, albeit Jewish, Elmi might bring herself to issue a condemnation.
Among those who denounced the attacks within hours were the Canadian Embassy in Israel, the US Embassy in Israel, the UK Ambassador to Israel and the EU Ambassador to Israel