Mother of 16-year-old terrorist: "He loved to fight the occupation"
Headline: "Um Yusuf – from the dream of the wedding to the whiteness of the shrouds"
"Um Yusuf [Sobeh] sheds tears of pain while waving the picture of her son [Yusuf Sobeh] (i.e., terrorist, shot at Israeli soldiers) in Al-Manara Square, in the center of Ramallah. She demands from every living conscience to see her son's body. She misses her son's softness, his pats on her shoulder, and hopes to embrace his body after the occupation has prevented her from bidding him farewell, as it has been holding his body for more than a year since his death as a Martyr.
Um Yusuf Sobeh recalls and tells [the official PA daily] Al-Hayat Al-Jadida about an incident that happened to her with her son a month before he ascended to Heaven. He patted her shoulder and said: 'Soon, Um Yusuf. Get ready to receive those congratulating [you] over my death as a Martyr.' …
Young Yusuf Muhammad Fathi Sobeh, 16, died as a Martyr on Sept. 26, 2021, during confrontations that broke out in the town of Burqin southwest of Jenin, due to the occupation soldiers' invasion of the town in the early morning hours. He died as a Martyr together with Martyr Osama Yasser Sobeh (i.e., terrorist, shot at Israeli soldiers), 22…
Um Yusuf [could] not control herself due to sorrow, and a tear almost fell from her eye as she said: 'Yusuf went, never to return. How will I pass the days without him? How I wish this is a dream, that I will wake up from it and see him in front of me.' …
Regarding his childhood dreams, Um Yusuf told Al-Hayat Al-Jadida: 'Despite his young age, he loved to fight the occupation and confront it. Every time there was an invasion of his town Burqin, he did not hesitate to set out to defend his homeland. His only wish was to be accompanied to [his] wedding as a Martyr (i.e., a Martyr's funeral is considered his wedding to the 72 Virgins in Paradise in Islam).'
She continued: 'I promise you, Yusuf, that I will continue to demand your body until I receive it, and I will perfume the land of Burqin with your pure blood.'"
The article includes a picture of Um Yusuf Sobeh holding a picture of her terrorist son Yusuf Sobeh.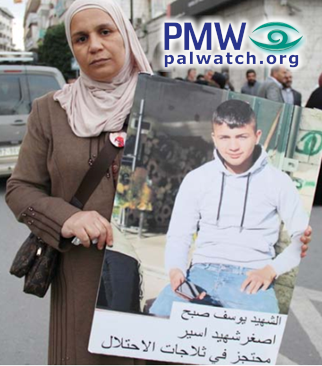 Text on picture: "Martyr Yusuf Sobeh, the youngest prisoner Martyr, being held in the occupation's [morgue] refrigerators"
September 2021 raids on Hamas terror cell - Israeli forces conducted raids on Sept. 26, 2021 to arrest members of a Hamas terror cell in several locations in the West Bank, in order to thwart imminent large-scale terror attacks that the cell was planning to launch in the West Bank and Israel. Five Hamas and Islamic Jihad terrorists were killed after opening fire on Israeli forces during the raids, and approximately 20 members of the cell were arrested and weapons were seized. The five killed in the raids were: Ahmed Zahran, Muhammad Hmeidan, Zakariya Badwan, Osama Sobeh, and Yusuf Sobeh.