Fatah in Bethlehem: "Taste the rage of the brigades – this is an open war"
The Fatah Movement - Bethlehem Branch posted an image on its Telegram channel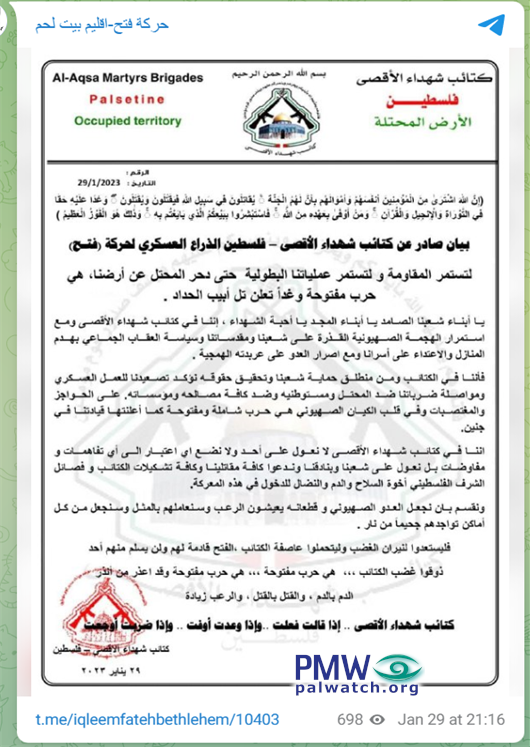 The image shows a written statement issued by the Al-Aqsa Martyrs' Brigades, Fatah's military wing. In the top center is the logo of the Al-Aqsa Martyrs' Brigades, featuring crossed assault rifles over the Dome of the Rock.
Text of statement: "The Al-Aqsa Martyrs' Brigades
Palestine - the occupied land
Jan. 29, 2023
'Indeed, Allah has purchased from the believers their lives and their properties [in exchange] for that they will have Paradise. They fight in the cause of Allah, so they kill and are killed… So rejoice in your transaction which you have contracted. And it is that which is the great attainment' [Quran 9:111, Sahih International translation]
A statement from the Al-Aqsa Martyrs' Brigades – Palestine, Fatah's military wing
We will continue the resistance, we will continue our heroic operations (i.e., terror attacks), until removing the occupier from our land. This is an open war, and tomorrow Tel Aviv will declare mourning
O members of our people that is standing firm, O sons of glory, O beloved ones of the Martyrs. We in the Al-Aqsa Martyrs' Brigades, with the continuation of the lowly Zionist attack against our people and its holy sites, and the collective punishment policy of demolishing homes and assaulting our prisoners… we the brigades, in defense of our people and to realize its rights, announce the escalation of the military activity, and a continuation of landing our blows on the occupation and its settlers and on all its interests and institutions, at the checkpoints, in the settlements sitting on stolen land, and in the heart of the Zionist entity. This is a comprehensive and open war, as our leadership announced in Jenin.
We in the Al-Aqsa Martyrs' Brigades do not rely on anyone, and we attribute no importance at all to any understandings or negotiations;rather we rely on our people and our rifles, and we call on all our fighters and all the brigades' units, the factions of Palestinian honor, brothers in arms, blood, and struggle, to enter this battle.
We swear that we will make the Zionist enemy and its flocks live in fear, we will do to them as they do, and we will turn wherever they are into a fiery hell.
Let them prepare for the fire of rage and for the storm of the brigades, Fatah is coming to them, and not one of them will get out of it safely.
Taste the rage of the brigades – this is an open war – this is an open war, see you have been warned
Blood for blood, killing for killing…
The Al-Aqsa Martyrs' Brigades – when they speak, they act, when they promise, they carry it out, and when they strike, they cause pain
The Al-Aqsa Martyrs' Brigades – Palestine
Jan. 29, 2023"
[Fatah Movement – Bethlehem Branch, Telegram channel, Jan. 29, 2023]