Fatah praises Hamas terrorist who murdered two
The Fatah Commission of Information and Culture posted an image and text on its Facebook page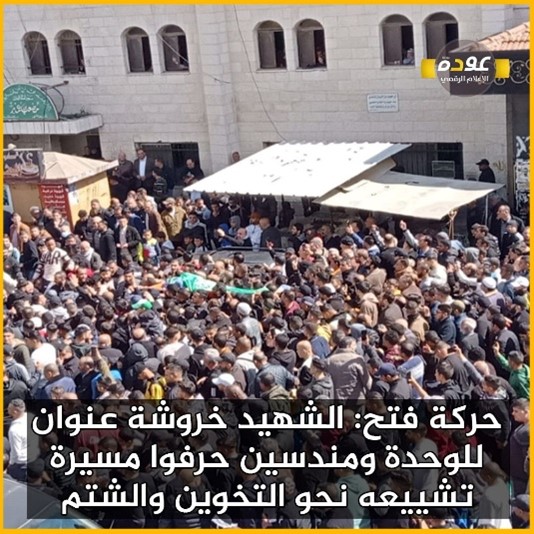 The image shows the funeral of terrorist Abd Al-Fattah Kharousha, who murdered 2 Israeli brothers.
Posted text: "The Fatah Movement: Martyr [Abd Al-Fattah] Kharousha (i.e., terrorist, murdered 2) is a symbol of unity, and planted people attempted to incite his funeral procession in the direction of accusations of treason and curses.
Fatah's Nablus Branch views with severity that which was carried out by a group that is close to the Hamas Movement, which was annoyed by the display of unity during the funeral procession of heroic Martyr Abd Al-Fattah Kharousha. [Therefore, this group] deliberately caused unfortunate events that occurred during the funeral of heroic Martyr Abd Al-Fattah Kharousha whose pure blood was spilled and mingled with the blood of the Fatah fighters and the members of the [PA] Security Forces in the Jenin [refugee] camp."
[Fatah Commission of Information and Culture, Facebook page, March 8, 2023]
Abd Al-Fattah Kharousha – Palestinian terrorist and Hamas member who shot and murdered Israeli brothers Yagel and Hallel Yaniv, aged 19 and 21 respectively, while they were driving on a main road through Hawara, near Nablus in the West Bank, on Feb. 26, 2023. The terrorist fled the scene, and when Israeli forces located him in Jenin on March 7, 2023, he resisted arrest, initiating an exchange of fire in which he was shot and killed. In the exchange of fire, which included terrorists shooting from within an ambulance, 3 Israeli soldiers were wounded, while an additional 6 terrorists were killed.