#TeamUK in Jerusalem erases Israel
Official representatives of the UK mission in Jerusalem have actively and openly adopted the position of the Palestinian Authority to ERASE ISRAEL.
On March 10, 2023, the Palestinian Authority held the annual "Palestine Marathon". The marathon was held under the auspices of the PLO Supreme Council for Youth and Sports, which is headed by Jibril Rajoub. The official PA logo of the marathon, printed on marathon t-shirts, is a map of "Palestine" that entirely erases Israel. Rajoub was seen wearing the t-shirt at the concluding ceremony in pictures he posted on his Facebook page: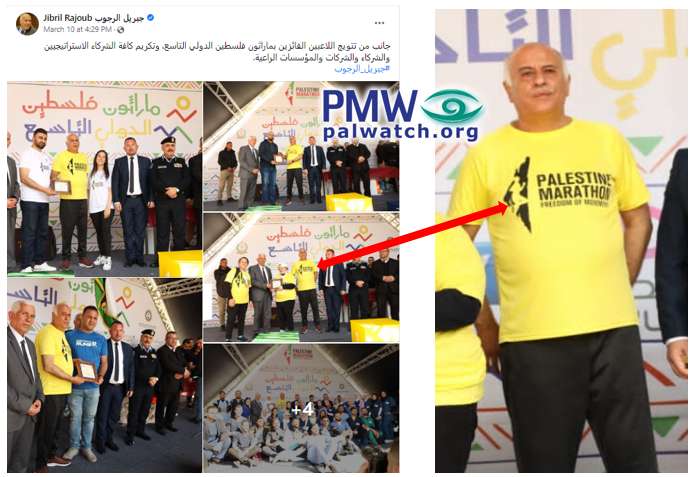 Posted text: "Pictures from announcing the winners of the 9th international Palestine Marathon, and honoring all the strategic partners, partners, and sponsoring companies and institutions.

#Jibril_Rajoub"

The images show Fatah Central Committee Secretary Jibril Rajoub handing out honorary plaques. Rajoub is wearing a yellow shirt featuring the logo of the Palestine Marathon, which shows the PA map of "Palestine" that presents all of Israel together with the PA areas as "Palestine," with a runner inside the map. Next to the logo is written in English: "Palestine Marathon: Freedom of Movement."

[Fatah Central Committee Secretary Jibril Rajoub, Facebook page, March 10, 2023]
As previously exposed by Palestinian Media Watch, the use for the marathon of the PA map erasing Israel is nothing new.
While PA maps erasing Israel's existence are commonplace, it is outrageous to see official representatives of any country, including the UK, adopting the PA stance. However, that is exactly what the British Consulate in Jerusalem did.
Following the marathon, a tweet from the official account of the British Consulate in Jerusalem (@UKinJerusalem) showed seven participants of "#TeamUK" proudly wearing their "PALESTINE MARATHON" t-shirts, including its map entirely ERASING ISRAEL.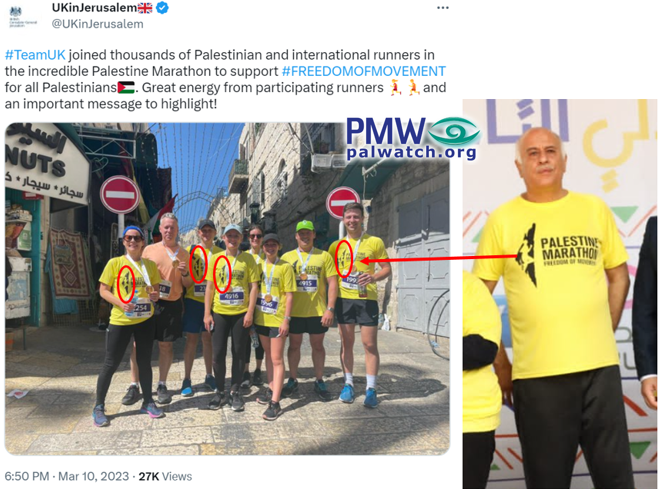 [Twitter account of the British Consulate in Jerusalem, March10, 2023]
The tweet accompanying the pictures that declared "#TeamUK joined thousands of Palestinian and international runners in the incredible Palestine Marathon to support #FREEDOMOFMOVEMENT for all Palestinians," was no less egrerious.
While supporting freedom of movement is generally innocuous, in this context, the PA FREEDOMOFMOVEMENT hashtag was conceived to specifically support the PA demand that Israel remove the security measures it has been forced to adopt in order to prevent the unimpeded flow of Palestinian terrorists from the PA-controlled areas into Israel's large cities.
In parallel to releasing this report, PMW also updated the Israeli Ministry of Foreign Affairs, and recommended that the UK representatives who participated in the erasing of Israel, be severely reprimanded and that the British Consulate in Jerusalem be required to publish a public apology.