Fatah wishes happy Mother's Day to the mother who had a "rifle in her hand"
The Fatah Movement – Bethlehem Branch posted an image and text on its Telegram channel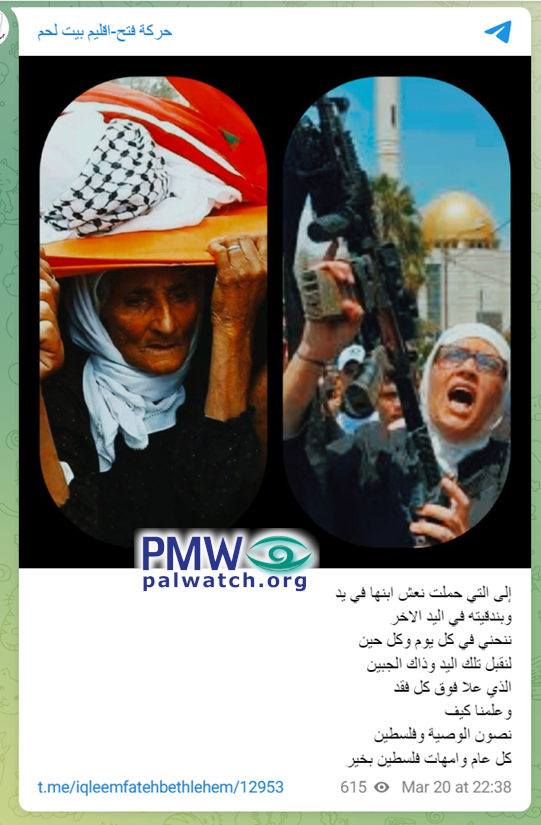 The image on the right shows the mother of terrorist Ibrahim Al-Nabulsi – who shot at Israeli soldiers – holding an assault rifle in the air. The image on the left shows an elderly woman helping to carry the body of a "Martyr" masked in a keffiyeh (Arab headdress), apparently her son, during his funeral.
Posted text: "To the woman who carried her son's coffin in her hand
And [carried] a rifle in her other hand
We bow every day and at all times
To kiss this hand and this forehead
Which rise above all loss
And have taught us how
We will protect the last will and Palestine.
Happy holiday (i.e., Palestinian Mother's Day) to the mothers of Palestine"
[Fatah Movement – Bethlehem Branch, Telegram channel, March 20, 2023]
Ibrahim Al-Nabulsi – Palestinian terrorist and member of the Al-Aqsa Martyrs' Brigades (Fatah's military wing) who was responsible for a series of shooting attacks targeting Israeli soldiers. Al-Nabulsi resisted arrest and shot at Israeli soldiers who returned fire and killed him in Nablus on Aug. 9, 2022. Al-Nabulsi was a member of a Fatah terror cell that was attacked while planning an imminent attack on Feb. 8, 2022; while Al-Nabulsi escaped, three other members of the cell were shot and killed: Adham Mabrouka Al-Shishani, Muhammad Al-Dakhil, and Ashraf Mubaslat.