Fatah top official posts an image with the PA map of "Palestine" that erases Israel
Fatah Central Committee Secretary Jibril Rajoub posted an image and text on his Facebook page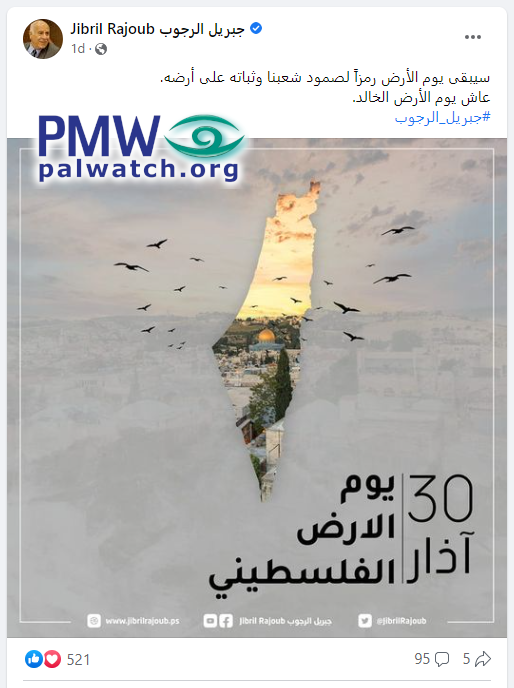 The image shows the PA map of "Palestine" that presents all of Israel together with the PA areas as "Palestine," with the Dome of the Rock seen inside of it.
Text on image: "March 30, Palestinian Land Day"
Posted text: "Land Day will remain a symbol of our people's resolve and its adherence to its land.
Long live eternal Land Day
[Fatah Central Committee Secretary] #Jibril_Rajoub"
[Fatah Central Committee Secretary Jibril Rajoub, Facebook page, March 30, 2023]
Jibril Rajoub also serves as Head of the PLO Supreme Council for Youth and Sports, Chairman of the Palestinian Football Association, Chairman of the Palestine Olympic Committee, and Chairman of the Palestinian Scout Association (PSA).
Land Day – annual commemoration of the general strike and demonstrations organized by Israeli Arab residents of the Galilee on March 30, 1976 to protest the Israeli government's decision to expropriate land in the Galilee for security and building purposes, which it later implemented. During the protests, demonstrators burnt tires, blocked roads, and threw rocks and firebombs. Six demonstrators were shot and killed by the Israeli army and police. Israeli Arabs and Palestinians consider Land Day a national day.