Prisoner's Club campaign features a map erasing Israel
Headline: "Prisoner's Day eve: A campaign was launched under the slogan '#Our_freedom_is_a_necessity"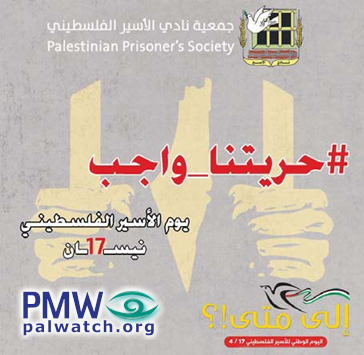 "The [PA-funded] Prisoners' Club announced the launch of a campaign yesterday [April 15, 2023] under the slogan '#Our_freedom_is_a_necessity,' on the eve of Prisoner's Day that will take place on April 17.
In a statement, the Prisoners' Club explained that the campaign… is meant to focus attention on the cause of the sick prisoners, who are dealing with the crime of medical neglect (slow murder) [parentheses in source] (sic., see note below regarding PA libel on medical abuse of Palestinian prisoners)…
It noted that the announcement of the campaign comes at the same time as the 21st anniversary of the arrest of Fatah Movement Central Committee member leader Marwan Barghouti (i.e., terrorist, orchestrated three attacks in which 5 were murdered), and also prisoner fighter Ahmed Barghouti (i.e., terrorist, responsible for murder of 12), who was nicknamed 'the Frenchman,' and who was sentenced to 13 life sentences and another 50 years."
[Official PA daily Al-Hayat Al-Jadida, April 16, 2023]
The article includes a poster for the PA-funded Prisoners' Club campaign. The poster features the hands of a prisoner holding onto prison bars; the central bar is in the shape of the PA map of "Palestine" that presents all of Israel together with the PA areas as "Palestine."
Text on poster: "The Palestinian Prisoners' Club
#Our_freedom_is_a_necessity
Palestinian Prisoner's Day
April 17
For how long?!"
Libel on medical abuse of Palestinian prisoners - the PA claims that Israel abuses Palestinian prisoners, through medical neglect, medical experiments, and by intentionally infecting them with diseases. However, the International Red Cross regularly visits these prisoners and has not documented or accused Israel of any of these claims. Likewise, lists of demands occasionally issued by the prisoners during hunger strikes - such as during one in 2011 - include no demands relating to these claims. PMW has documented prisoners talking about how they "lack nothing" in the prisons, and that "the worst thing about Israeli prison" is riding in a prison vehicle that has no padding on the seat. When PMW contacted the Israeli Ministry of Health in 2007 regarding PA claims of medical experiments on prisoners, the ministry responded: "Clinical testing on prisoners in prison was never approved, never performed, and is most certainly not taking place at present."
Marwan Barghouti – Palestinian terrorist and member of the Palestinian Authority parliament who is serving 5 life sentences for orchestrating three shooting attacks in which 5 people were murdered: one attack on the Jerusalem-Maale Adumim road (June 12, 2001) in which Greek Orthodox monk Tsibouktsakis Germanus was murdered by terrorists Ismail Radaida and Yasser Ah'Rabai, another attack at a gas station in Givat Zeev near Jerusalem (Jan. 15, 2002) in which Yoela Hen was murdered by terrorists led by Mohammed Matla, and one shooting and stabbing attack at the Seafood Market restaurant in Tel Aviv (March 5, 2002) in which Eli Dahan, Yosef Habi, and Police Officer Sergeant-Major Salim Barakat, were murdered by terrorist Ibrahim Hasouna. When arrested by Israel in 2002, Barghouti headed the Tanzim (Fatah terror faction). After he was convicted and imprisoned, he was re-elected as a member of the Palestinian Authority parliament. On Dec. 4, 2016, he was elected to Fatah's Central Committee.
Ahmed Barghouti – Palestinian terrorist and commander of the terror organization the Al-Aqsa Martyrs' Brigades (Fatah's military wing) in the Ramallah region. Barghouti sent terrorists to shooting attacks in which 12 people were murdered. Among these attacks was the terror attack in the Seafood Market restaurant in Tel Aviv (March, 5, 2002) in which 3 people were murdered. Barghouti is serving 13 life sentences and another 50 years.