Wife of terrorist prisoner who died because of his hunger strike is proud of his death as a Martyr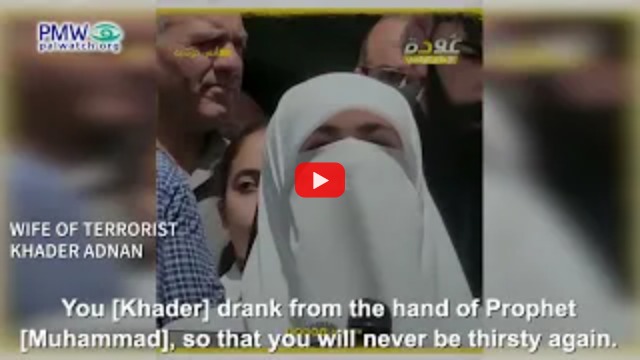 The video shows the wife of Islamic Jihad terrorist Khader Adnan speaking at a demonstration.
Wife of terrorist Khader Adnan: "We are proud, and [Khader Adnan's] sons are proud of this Martyrdom. Almighty Allah chooses the Martyrs… God, we received You willingly, receive us willingly. What joy you have merited, Sheikh [Adnan], for this Martyrdom... You [Khader] drank from the hand of Prophet [Muhammad], so that you will never be thirsty again."

Posted text on Facebook page: "A message from the wife of Khader Adnan (i.e., Islamic Jihad terrorist) during a demonstration demanding to return the bodies of the Martyrs that are being held in the occupation's [morgue] refrigerators."

[Fatah Commission of Information and Culture, Facebook page, May 6, 2023]
Khader Adnan – 45-year-old Palestinian terrorist and senior member of the Islamic Jihad terror organization who was arrested on Feb. 5, 2023, and indicted for membership in a terrorist organization and incitement to terror. He died on May 2, 2023, in an Israeli prison, as a result of conducting a hunger strike that lasted 86 days, during which he refused both food and medical treatment. As a result of his terror activities, Adnan had previously been arrested 9 times and served 8 years in prison, during which he staged numerous hunger strikes.