Before shooting at Israeli soldiers, terrorist implied he would seek Martyrdom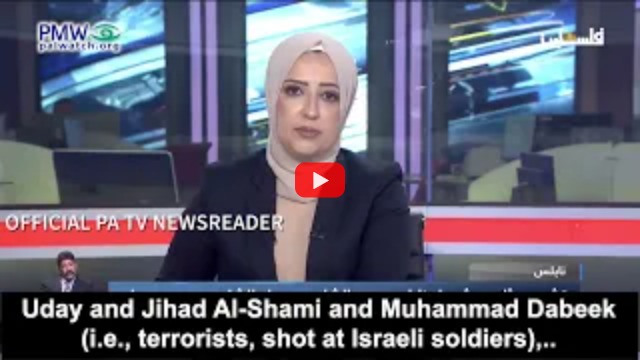 Official PA TV newsreader: "Our people accompanied to burial three Martyrs from Nablus, Uday and Jihad Al-Shami and Muhammad Dabeek (i.e., terrorists, shot at Israeli soldiers),.."
A recording is played of terrorist Uday Al-Shami speaking while footage from the funeral of the three terrorists is shown.
Recording of terrorist Uday Al-Shami: Tomorrow you will see me on TV. You will say… "He used to sit with us in the neighborhood…" Tomorrow you will be proud of me. Tomorrow you will say: "That's Uday Al-Shami and these are our pictures with him."
[Official PA TV News, May 6, 2023]
Muhammad Raed Naji Al-Dabeek, Uday Othman Rafiq Al-Shami, and Jihad Muhammad Wasfi Al-Shami – Palestinian terrorists and members of the independent terror cell "the Lion's Den" aged 18, 22, and 24 respectively, who shot at an Israeli military post near Nablus on March 12, 2023. Israeli soldiers stationed at the post returned fire, killing the 3 terrorists. After the three terrorists were killed, the Lion's Den issued a press release praising them as "Jihad fighters," "the best of their members," and "heroes of a series of revenge operations" (i.e., terror attacks).