"Fatah [is] the spearhead in this war room" - PA invents active role for Fatah in fighting Israel with Gazan terrorists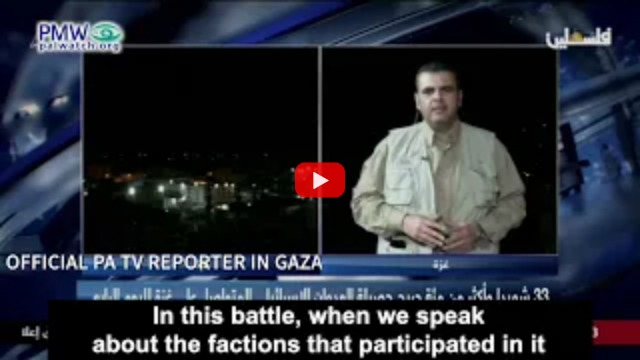 Official PA TV newsreader: "There were statements by the Fatah Movement and unity on the ground to confront this aggression on the Palestinian lands. For a long time, Fatah is the pioneer in armed struggle activity on the Palestinian lands."
Official PA TV reporter in Gaza: "That's true. We see that in the Gaza Strip, even in terms of the military wings and the joint war room that includes all the factions. The Al-Aqsa Martyrs' Brigades (i.e., Fatah's military wing) and Fatah are actually considered the spearhead in this war room… In this battle, when we speak about the factions that participated in it and about what's called on social media 'partners in blood,' the intent is mainly the Al-Quds Brigades fighters (i.e., Islamic Jihad's military wing) and the Al-Aqsa Martyrs' Brigades fighters (sic.), who acted together in the battle as a response to the assassinations of the Al-Quds Brigades members."
[Official PA TV News, May 12, 2023]
These statements by official PA TV reporters show how important it is to the PA and Fatah to present themselves as leading "the armed struggle" against Israel – even when the fighting was in the Gaza Strip and no Fatah terrorists took part.
The mention of "hostilities" refers to
2023 Operation Shield and Arrow – Israeli counter-terror operation against the Islamic Jihad terror organization in the Gaza Strip, in response to Islamic Jihad rocket attacks targeting Israel and particularly on May 2, 2023, when over 100 rockets were fired at Israel. Israel's operation began on May 9, 2023, when Israel killed senior Islamic Jihad officials Khalil Al-Bahtini, Tareq Izz Al-Din, and Jihad Al-Ghannam together with 10 others, primarily their relatives, in targeted airstrikes. The terrorists were involved in the previous rocket attacks and were actively planning terror attacks in the West Bank. During Israel's operation, Islamic Jihad launched over 1,000 rockets, murdering 80-year-old female Israeli civilian Inga Avramyan and a 34-year-old Palestinian laborer from the Gaza Strip working in Israel. Approximately 20% of the rockets fell short within the Gaza Strip, killing at least 4 Palestinians. Israel attacked Islamic Jihad terror infrastructure and later in the operation also killed Islamic Jihad officials Ayed Al-Husseini, who was Al-Bahtini's replacement as commander of operations; Ali Ghali, commander of Islamic Jihad's rocket force; and Ghali's deputy Ahmed Abu Daqqa. An Egyptian mediated ceasefire was announced on May 13, 2023.