In Zayzafuna magazine, "Palestine" still replaces all of Israel
Itamar Marcus and Nan Jacques Zilberdik
|
Zayzafuna youth magazine
continues to depict "Palestine" as replacing Israel

School principal's essay in the PA-funded magazine lauds Arafat for promising "liberation of all the Palestinian land - without bargaining without compromise"
by Itamar Marcus and Nan Jacques Zilberdik
The PA-funded youth magazine Zayzafuna continues to promote non-recognition of Israel, both by presenting visual images of Palestinian jurisdiction over all of Israel as well as texts calling for the "liberation" of what is called "Palestine."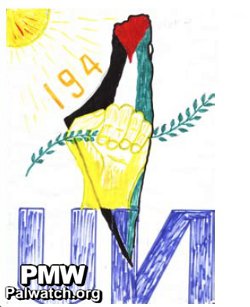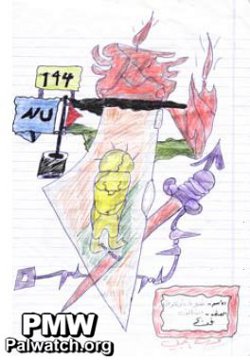 In the latest issue of December 2011, the editors chose to include two drawings of maps of "Palestine" that included PA areas as well as all of Israel under the Palestinian flag - a sign of Palestinian rule, political sovereignty and the elimination of Israel. One of the maps includes the image of a dagger being thrust through the map. The number "194" and the letters "UN" in the drawings refer to the PA's bid in September to become the 194th member state of the UN.

The same issue of Zayzafuna also included a Palestinian school principal's essay on Yasser Arafat, describing Arafat's terror as heroic after he established Fatah and lauded Arafat for promising "the liberation of all the Palestinian land, without bargaining, without compromise." The editors of Zayzafuna also included a poem by a girl in 9th grade promising the liberation of "Palestine." Both texts follow below:

As mentioned in PMW's study of one year's issues of Zayzafuna, (Chapter 14 in Deception: Betraying the Peace Process) and it is true about this issue as well, the hate messages such as these depicting a world without Israel, are blended in with the numerous positive messages about friendship and the importance of education.

The following are the school principal's essay on Arafat and the girl's poem promising the liberation of "Palestine":

School principal's essay about Arafat:
"Yasser Arafat, the eternal leader... In his youth, destiny had him move to beloved Egypt, where he completed his university education. But the pictures from his youth that were engraved in his memory and what he had heard about Britain and the wild Zionist gangs who were maltreating and torturing the people of Palestine, awakened his burning nationalist feelings. He hurried with a group of friends to establish armed units of struggle (i.e., Fatah terror organization), and to declare its eruption with lighting the first spark, doing the first action (i.e., terror attack) in the depths of Zionist territory which shook up all their cobweb-homes... And he told the entire world that we will struggle in all ways, revolutionary and peaceful, until the liberation of all the Palestinian land, without bargaining, without compromise on any of our legal rights."
[Zayzafuna, December 2011]

The Prisoner's Cry written by a girl in ninth grade:
"From behind the prison bars,
From behind the prison cells of torture, a cry -
They cried, 'Forgive us, oh Palestine,
We have responded your cry and your request,
But we were unable to answer to your hope for victory and for liberation.
Do you know why?
Because your enemy betrayed us
Because your enemy imprisoned us
Because your enemy made us taste bitterness.
But don't worry, don't worry, oh Palestine,
Because pain on your behalf is light, even though our children are waiting for our return every celebration and holiday.
But don't worry Palestine,
We will liberate you
We will respond to your request and your call.
You will be liberated by our hand,
Our promise, promise, promise, oh Palestine.'"
[Zayzafuna, December 2011]