In order do regain his reputation, Fatah emphasizes Al-Aloul's participation in terror
The Fatah Commission of Information and Culture posted an image and text on its Facebook page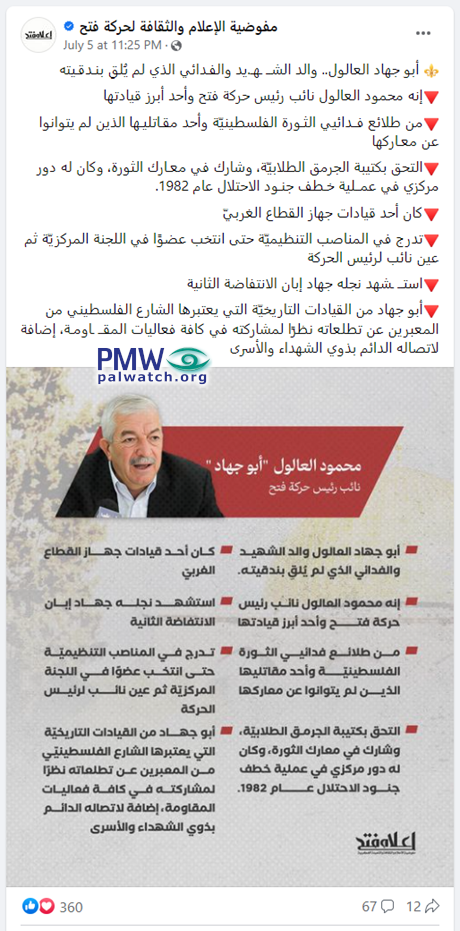 The image shows Fatah Deputy Chairman and Fatah Central Committee member Mahmoud Al-Aloul.
The following message comes in response to participants removing Fatah Deputy Chairman Mahmoud Al-Aloul from a mass funeral held in Jenin on July 5, 2023, for terrorists killed in Operation Home and Garden – see note below -Ed.
Posted text and text on image: "
[Fatah Deputy Chairman Mahmoud] Al-Aloul 'Abu Jihad' – the father of the Martyr and the self-sacrificing fighter who never cast away his rifle…
He had a central role in the operation of kidnapping the occupation's soldiers in 1982 (see note below -Ed.)."
[Fatah Commission of Information and Culture, Facebook page, July 5, 2023]
2023 Operation Home and Garden - an Israeli counter-terror operation in Jenin that lasted from July 3-5, 2023. The operation targeted terror infrastructure in the city, and particularly the Islamic Jihad-affiliated terror group the Jenin Brigade, after 50 terror attacks had originated from the city and 19 terrorists had fled to it since the start of 2023. Israeli soldier David Yehuda Yitzhak, 23, was killed during the operation, while at least 18 Palestinian terrorists were killed and over 300 terror suspects were arrested. During the operation, Israeli forces attacked a terror headquarters located next to a medical clinic and two schools, one of them belonging to UNRWA. Several weapons factories were discovered containing hundreds of explosives and weapons caches. Terrorists opened fire on Israeli forces from within a mosque in the Jenin refugee camp, and after gaining control of the site, the Israeli forces discovered weapons caches including explosives and entrances to underground tunnels in the mosque's basement.
The capture of 8 Israeli soldiers in Lebanon – Eight Israeli soldiers were captured by Fatah terrorists in Bhamadoun, Lebanon on Sept. 4, 1982. Two of them were handed to the Popular Front for the Liberation of Palestine (PFLP) and 6 were held by Fatah. Fatah released the 6 soldiers on Nov. 23, 1983 as part of an exchange deal in which Israel released 4,700 terrorists that were held in Lebanon and 65 terrorists held in Israel. The two handed over to the PFLP were released on May 21, 1985, as part of an exchange deal in which Israel released 1,150 terrorist prisoners.