Terrorist's story says he is "wishing for Shahada"
"Sons of the homeland" posted an image on its Telegram channel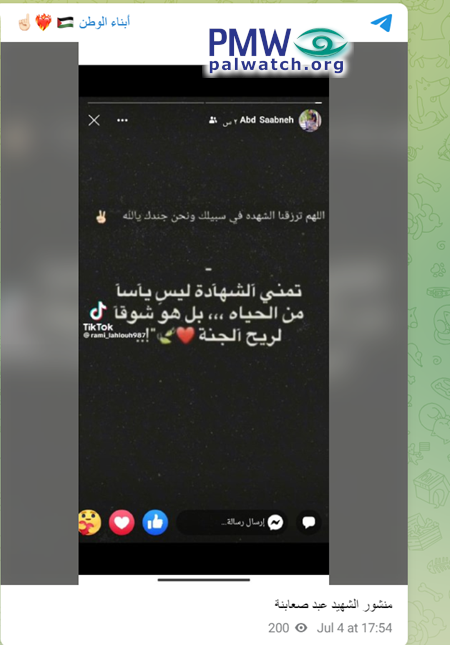 The image shows a screenshot of a Facebook story (a temporary post) from the Facebook page of 22-year-old terrorist Abd Al-Rahman Saabneh, who was killed during 2023 Operation Home and Garden – see note below.
Text in Facebook story: "'Allah, grant us Martyrdom for Your sake, and we are your soldiers.'
Wishing for Martyrdom is not despairing of life,,, rather it is desire for the scent of Paradise."
Posted text: "A post by Martyr Abd [Al-Rahman] Saabneh"
["Sons of the homeland," Telegram channel, July 4, 2023]
2023 Operation Home and Garden - an Israeli counter-terror operation in Jenin that lasted from July 3-5, 2023. The operation targeted terror infrastructure in the city, and particularly the Islamic Jihad-affiliated terror group the Jenin Brigade, after 50 terror attacks had originated from the city and 19 terrorists had fled to it since the start of 2023. Israeli soldier David Yehuda Yitzhak, 23, was killed during the operation, while at least 18 Palestinian terrorists were killed and over 300 terror suspects were arrested. During the operation, Israeli forces attacked a terror headquarters located next to a medical clinic and two schools, one of them belonging to UNRWA. Several weapons factories were discovered containing hundreds of explosives and weapons caches. Terrorists opened fire on Israeli forces from within a mosque in the Jenin refugee camp, and after gaining control of the site, the Israeli forces discovered weapons caches including explosives and entrances to underground tunnels in the mosque's basement.