Children taught to see themselves as Martyrs in PA summer camps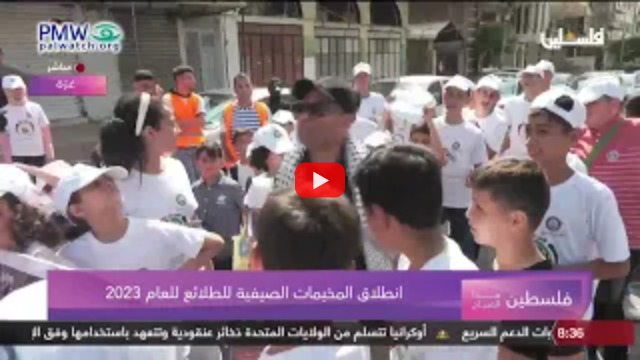 Children participating in PA summer camps in the Gaza Strip are taught to honor past terrorist "Martyrs" and to envision themselves as "Martyrs." In a procession, children held signs that read:"I am Martyr number," followed by a different number for each child.
PA summer camp sports instruction board member Mirfat Al-Baitar: "We came to participate in launching the summer camps named 'Moons and Not Numbers,' which are dedicated to the Martyrs' bodies that are being held by the Israeli occupation. For the sports event we picked the name of Nasser Abu Hmeid (i.e., terrorist, responsible for murder of 7), because he is the latest Martyr of medical neglect in the occupation's prisons, and his body is still being held by the occupation."
[Official PA TV, Palestine This Morning, July 15, 2023]
Nasser Abu Hmeid - Palestinian terrorist responsible for the murder of 7 Israelis, and a commander of the Al-Aqsa Martyrs' Brigades (Fatah's military wing) in Ramallah. : Those murdered: Eli Cohen in a shooting attack in central Israel on Dec. 21, 2000; Husband and wife Binyamin and Talia Kahane in a drive-by shooting attack near Ofra, north of Jerusalem, on Dec. 31, 2000; Gadi Rejwan in a shooting attack in the Jerusalem on Feb. 27, 2002; and Yosef Habi, Eli Dahan, and Police Officer Sergeant-Major Salim Barakat in an attack at the Seafood Market and Mifgash Hasteak restaurants in Tel Aviv on March 5, 2002. Abu Hmeid who was serving 7 life sentences, was diagnosed with lung cancer in August 2021 and died on Dec. 20, 2022.
Libel on medical abuse of Palestinian prisoners - the PA deceivingly claims that Israel abuses Palestinian prisoners through medical neglect, medical experiments, and by intentionally infecting them with diseases. However, the International Red Cross regularly visits these prisoners and has not documented or accused Israel of any of these claims. Likewise, lists of demands occasionally issued by the prisoners during hunger strikes - such as during one in 2011 - include no demands relating to these claims. PMW has documented prisoners talking about how they "lack nothing" in the prisons, and that "the worst thing about Israeli prison" is riding in a prison vehicle that has no padding on the seat. When PMW contacted the Israeli Ministry of Health in 2007 regarding PA claims of medical experiments on prisoners, the ministry responded: "Clinical testing on prisoners in prison was never approved, never performed, and is most certainly not taking place at present."